Michelle Smith de Bruin banned from swimming competition for four years
Michelle Smith de Bruin arrives at the Royal Dublin Society Horse Show, following the announcement that she is banned from swimming competition for four years.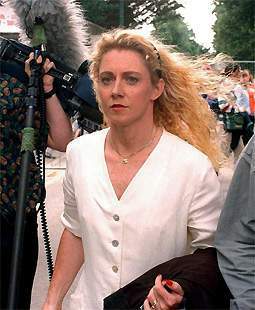 Michelle Smith de Bruin, the Irish swimmer who won three gold medals at the 1996 Summer Olympics was banned her competition for four years after finding that she had manipulated a drug test by spiking her urine sample with alcohol.

At the Atlanta Games, Janet Evans, along with other American coaches and swimmers, questioned the legitimacy of de Bruin's performances because she had suddenly moved to the top of international competition at a relatively late age and after a mediocre career. She was not ranked among the top 25 swimmers at any distance, for any stroke, as late as 1993.

Further suspicions were raised by the fact that her husband, Erik de Bruin, a former Dutch discus thrower, had been suspended for excessive levels of testosterone, the male sex hormone that also can be used as a muscle-building anabolic steroid. Both de Bruin and her husband said that her performances were improved by weight lifting and other training techniques.
---
Here are links:

Contact address - please send e-mail to the following address: Sloan@ishipress.com