Donna Rice, who brought an end to Gary Hart's 1988 campaign for US President
Gary Hart was more than 20 percentage points ahead of the field when he was photographed with Donna Rice sitting on his lap, on a yacht out in the Atlantic Ocean on the way to the Bahamas.

It seemed almost certain that Hart would have been nominated for president had it not been for allowing a beautiful girl to sit on his lap.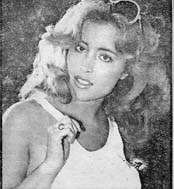 Because of this incident, combined with the fact that Hart was an air-head, Dukakis got the nomination, and was overwhelmingly defeated by Bush. More people remember Hart than remember Dukakis.
Nobody ever said whether Hart did anything else with Donna Rice, but what else does a man do with a woman he has way out on the ocean all night?
DONNA RICE: Reporters who followed Gary Hart's advice to "put a tail" on him discovered the actress on Hart's lap aboard the good ship "Monkey Business"; Hart's presidential campaign imploded. Rice turned down big offers from Playboy and Penthouse, but did a "No Excuses" jeans ad. Now 39, a born-again Christian and conservative icon, she's crusading against pornography on the Internet.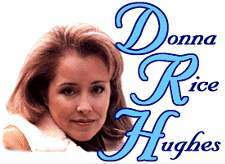 Donna Rice in her new role as a religious crusader against pornography on the Internet
---
Write a Letter to Donna Rice
eie@cais.com
---
Here is a link: Paula Parkinson


Here is a link: Fawn Hall
Here is: More about Donna Rice
Order the Video of Clinton's Testimony.
Order Now: The Slave Children of Thomas Jefferson - Just Out
Contact address - please send e-mail to the following address:
Sloan@ishipress.com