Jane Lauder, granddaughter of Estée Lauder
Jane Lauder is the promotions marketing manager for Clinique Laboratories

Want to meet a good looking girl who is heir to one billion dollars - i.e. $1,000,000,000?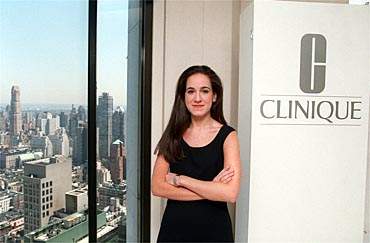 Jane Lauder


Here she is!

I actually saw Jane Lauder once, when I took my almost-as-good-looking one-true-love at the time to an Estée Lauder stockholder's meeting in November 1997 at the Essex House in Manhattan.

My girlfriend was an avid user of Estée Lauder products. (Some women will do anything to get laid.)

My girlfriend was actually slightly better looking than Jane Lauder, but Jane Lauder has that special something which will attract almost any man.
---

It took me a long time to find this. It is readily apparent that Jane needs a webmaster. Sam Sloan is available!

Here is the: Clinique Home Page.
---
You probably had a really hard time finding this page. Could it be that the reason is that Estée Lauder has filed a lawsuit against a search engine, Excite? I have not even been able to find information about the lawsuit. That information was taken down from the web as well.

Estée Lauder has not sued me yet. I can hardly wait!

Here are links:

My Home Page

Contact address - please send e-mail to the following address: Sloan@ishipress.com