Who Really Killed Rajiv Gandhi?
For nearly two decades, probably more people have seriously been trying to kill Velupillai Prabhakaran, the leader of the Liberation Tigers of Tamil Eelam, than any other person in the world.

On Wednesday, an Indian court sentenced Velupillai Prabhakaran to death in absentia, just for the little thing of killing Rajiv Gandhi. Ha! Ha! Ha!.

The judge in the Indian Court came to the ridiculous conclusion that the only person who wanted Rajiv dead was Prabhakaran, and therefore he must be guilty, without any evidence linking him to Dhanu, the heroic woman who wrapped her arms around Rajiv Gandhi and blew themselves both up together, thereby preventing the second invasion of Sri Lanka that Rajiv was planning to launch.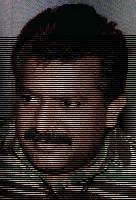 A Rare Photo of Velupillai Prabhakaran
---

I am no admirer of Prabhakaran, but I know for a fact that there were 16 million other Sri Lankans who wanted to kill Rajiv Gandhi, plus a number of Indians as well.

Sorry, I do not have a photograph of Velupillai Prabhakaran. For some reason, he has been bashful about having his picture taken for the past 20 years. Prabhakaran used to be flown from his jungle stronghold near Jaffna to private meetings with his buddy Rajiv Gandhi at the royal palace in New Delhi, at a time when Rajiv was supplying him with arms, but apparently nobody was able to take his picture.

Gandhi was assassinated on the night of May 21, 1991 at an election rally at Sriperumbudur near Tamil Nadu capital Chennai (Madras) by Dhanu, a woman suicide-bomber. She detonated an explosive device, hidden in a belt she wore around her waist. It went off as she bent down to touch her victim's feet, killing the Indian leader, the "human bomb" herself and 16 others on the spot.

Here is a quote from an Indian Press Release: "The court upheld the SIT contention that LTTE Chief Prabhakaran had decided to eliminate Rajiv Gandhi because he believed the Indian leader was against the Tamil struggle against the Sri Lankan state. Prabhakaran, who was forced by the Indian Peace-Keeping Force (IPKF) to hide in his jungle hideout in Sri Lanka's Jaffna province for over two years, was afraid that Gandhi might reinduct the "Satanic force" if he returned to power in the May 1991 general election.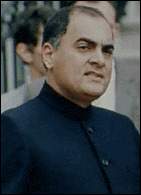 "Gandhi's commitment to ensure Sri Lanka's sovereignty and the upswing in his poll-eve popularity in India apparently forced the LTTE to execute its plan even as the election process was on in this country.
"The seed of hatred in Prabhakaran's mind grew when the IPKF handed over 17 key LTTE militants, apprehended during its operations in northeastern parts of the island, to the Sri Lankan forces. Twelve of them consumed cyanide and killed themselves while being handed over. That was when Prabhakaran vowed to fight the IPKF and oppose the Indo-Sri Lanka Agreement Gandhi had signed in July 1987 with then Sri Lankan President J. R. Jayewardene to end Tamil militancy and to restore normalcy in that country's troubled northeast. The conspiracy to kill Gandhi was hatched in the jungles of Jaffna by Prabhakaran, Pottu Amman and Akila. One-eyed Jack Sivarasan was chosen to execute the plot because he engineered the killing of Padmanaba, leader of the Eelam People's Revolutionary Liberation Front (EPRLF), and 13 of his cadres, in Chennai in June 1990.
"Two or three squads sent by Sivarasan, landed in neighboring Tamil Nadu across the Palk Straits under the guise of Tamil refugees. They took houses in Chennai and suburbs, made friends with local Tamils and used them in killing Gandhi.
"Sriharan alias Murugan, a hardcore LTTE militant, arrived in Tamil Nadu through clandestine means in February 1991. He formulated the modalities and made all arrangements to execute the plan. In the process, he befriended Chennai-based Indian Tamil woman Nalini, and married her.
"When Gandhi's tour program was made public, the five-member assassination squad met at Nalini's mother Padma's place one day prior to his visit to Sriperumbudur. After giving finishing touches, the team prayed at a temple in Chennai for the success of their mission and left by bus for Sriperumbudur at 1700 hours and reached the venue of Gandhi's election meeting ahead of time. Gandhi arrived there at 2200 hours and was blown to pieces 20 minutes later."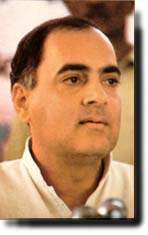 Here is another version of what happened: "Gandhi died at an election campaign rally near Madras when a young woman smiled and offered him a garland that concealed 1lb of plastic explosives packed with 10,000 metal pellets. As he reached for the flowers, the bomb exploded. The woman's severed head was found, leading to her identification as a member of the Black Tigers suicide squad."
---
Please note that not one word of the court's decision links Prabhakaran to Dhanu, the woman who actually killed Rajiv Gandhi. Essentially, the court concluded that since Prabhakaran had strong reasons to want to kill Rajiv Gandhi, therefore he must have done it.
---
Here are links:
---
Here is a dirty Rajiv Gandhi joke, which is making the rounds in Sri Lanka:

Just after Rajiv was blasted into pieces, there were Police collecting Rajiv's body parts for cremation. However, Rajiv's most important part, his dick, was missing. Police were able to locate a lonely dick that was at a distance from Rajiv body, and took it to Sonia for identification. On seeing the dick, Sonia's eyes flashed with enjoyment "Holy chit, where on earth you find this! This is Sanjay's dick!"
---
Contact address - please send e-mail to the following address:
Sloan@ishipress.com