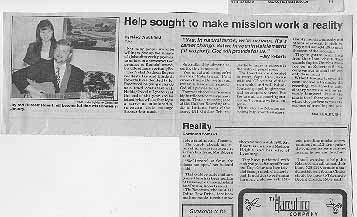 That's what Madison Heighhts residents Jay and Elizabeth Roberts have decided to do. Roberts will nbe giving up his job as a travel consultant with Holiday Travel in Lynchburg at the end of the year and be joined by his wife as they begin a career as missionaries, spreading their message through their music.

Naturally, they admitted recently, they're nervous.

"Yes, in natural terms, we're nervous," Roberts said. "It's a career change. But we have an invisible means (of support). God will provide for us."

However, the couple faces one big hurdle before their career begins. That's a recording date at the Gaither Recording Studio in Indiana, home of the faimed Bill Gaither Trio, regarded by many as pioneers in the rhelm of gospel music.

The Robertses are scheduled to record, Sept. 18-21, a cassette and CD version of their own works and will include Southern gospel, inspirational and contemporary tracts. But the date at the recording studio isn't coming without expense.

That's why the Robertses are seeking help from the Amherst County church community and others who want to pitch in. They need some $4,800 to meet the costs of recording.

They've gotten much help from their home church, Tabernacle Baptist Church in Monroe, but as Roberts said, the congregation is small and can only do so much.

Without funding to cover the costs involved with making the recording, the Robertses missionary ventures will be severely hampered. Part of the plan is to sell the tapes and CDs where they perform to cover the expense of traveling and provide a small means of income.

The couple has already received an invitation to play at a church in Texas, Mrs. Roberts said.

"We'll travel as far as the doors are open," her husband said.

That could be quite a distance, since there has been mention of traveling to Canada, Ireland and Russia, Roberts added.

The Robertses, who live at 141 Odins Bow Drive, have been making music together since they were wed in July, 1990. Mr. Roberts is a native of Madison Heights and his wife, of Lynchburg.

They have performed with such groups as Strings of Praise and Kings Court and have traveled through much of the northeast. In addition to performing harmonic melodies, with Roberts providing musical accompaniment on a 12-string guitar, the couple ministers in prisons, nursing homes and churches.

Those wanting to help the Robertses can call them at their home, 528-4145, or make a tax deductable contribution. Checks should be made to Tabernacle Baptist Church, Roberts said.
---
The above is an article from the Amherst New Era Progress for August 28, 1997. Jay Roberts was involved with his parents in the kidnapping of my daughter, Shamema Sloan. Jay Roberts is now a self-proclaimed reformed homosexual and has Hodgkin's Disease.

Here is a link: Wanted for Kidnapping
---