Hedy Lamarr, a great woman of her times, dies at 86
by Sam Sloan


Born Hedwig Eva Maria Kiesler in Vienna, Austria on November 9, 1913, she appeared in her first film in 1930, but it was her appearance in the 1933 Czech film "Ecstasy" which shot her to stardom.

She appeared in a nude swimming scene which created a sensation in Europe and promptly got the film banned in the United States.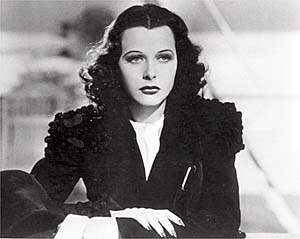 Hedy Lamarr


Her husband, Fritz Mandl, a Viennese munitions maker, who had made millions manufacturing weapons for the Nazis, was upset by the film and tried to buy every copy of the print in existence. He was not successful and soon came to regret these efforts, when the Nazis confiscated his factory, claiming that he owed them taxes. His wife, Hedy, fled to England.

There, she was seen by Louis B. Mayer, who immediately hired her and gave her the screen name Lamarr, hoping to keep secret the fact that she was the same actress who had appeared scandalously undressed in "Ecstasy."

This did not work either, as reporters quickly realized who she really was.

Louis B. Mayer called her "the most beautiful girl in the world" and brought her to America in 1937.

She appeared in 36 movies. However, she was difficult to work with and several times turned down roles which other actresses took which made them famous. She turned down parts that went to Gene Tierney in "Laura" and to Ingrid Bergman in "Casablanca" and "Gaslight."

She was considered such a poor actress that whenever she was given speaking lines, she was the brunt of jokes. Jack Benny and Mel Brooks both did parodies of her. Nevertheless, as a result of her other qualities, undergraduates at Columbia University voted her the girl with whom they would most like to be marooned on a desert island.

Hedy Lamarr by Corel Draw


Unlike other famous stars, she rarely smiled and usually had a worried look on her face.

Her most famous appearance was as Delilah opposite Victor Mature in "Samson and Delilah," Cecil B. DeMille's 1949 epic.

However, her most remarkable achievement was not as an actress. As a result of having been the wife of a weapons manufacturer, she know that missiles aimed at the enemy could be prevented from reaching their targets by jamming the radio signals which guided them. During World War II, along with composer George Antheil, she took out a patent on a device which defeated jamming efforts by sending fluctuating synchronized radio signals on various wavelengths to missiles. This patent was granted on Aug. 11, 1942.

Patents are only good for 17 years and in 1960, just after the patent had expired, the United States Army secretly put her technology into testing and production. Several more years passed before it was discovered that the Army had been doing this and that Hedy Lamarr, under her legal name of name Hedy Kiesler Markey, had been the patent holder.

Her technology is still the subject of research. Cellular phone manufacturers are working on it as a way to make cell phone communications more secure. More importantly, Internet service providers are working on using her technology to secure communications over the Internet.

Because her patent had expired, she was never paid a dime for her technology, but in 1997 she was honored for her work by the Electronic Frontier Foundation.

The private life of Hedy Lamarr was unhappy. She was married six times and several of her marriages lasted only a few months. She was frequently involved in lawsuits. Late in her years, she was arrested twice for shoplifting. When she died at age 86 in her apartment near Orlando, Florida on January 19, 2000, she was alone.

Hedy Lamarr is survived by two children by British actor John Loder, and by one adopted child.

Think you have never seen a picture of Hedy Lamarr? You have seen her many times. Corel Draw uses a drawing of Hedy Lamarr to advertise its products. Here is that drawing. Not long before she died, Hedy Lamarr sued Corel Draw for compensation, but lost.
---
Here are movies starring Hedy Lamarr:

My Home Page

Contact address - please send e-mail to the following address: Sloan@ishipress.com