September 26, 1997
Albert Enters Plea of Guilty and Is Dismissed by NBC
---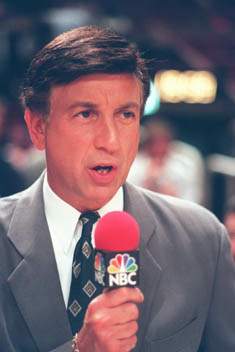 By MICHAEL JANOFSKY
RLINGTON, Va. -- Marv Albert, whose staccato play-by-plays helped make him one of television's most distinctive and ubiquitous sportscasters, ended a trial filled with embarrassing testimony about his sex life by pleading guilty on Thursday to a misdemeanor count of assault and battery.
Hours later, he was dismissed by NBC, where he was a leading football and basketball announcer. He also resigned from MSG, the cable network that broadcasts games of the New York Knicks and Rangers.
Albert was charged with assaulting a 42-year-old Virginia woman in an Arlington hotel room last Feb. 12
In a plea agreement that they said they had offered him before the three-day trial began, the prosecutors agreed to drop a felony charge of forcible sodomy, which could have resulted in a jail term of five years to life. Instead, by pleading guilty to the lesser charge, he faces up to a year in jail when he is sentenced next month and a fine of up to $2,500.
Looking tired and dazed as he left the Arlington County Courthouse with his fiancee, his father and other members of his family who sat through the trial, Albert stopped briefly before a bank of microphones to thank his lawyers, family and supporters. "I just felt I needed to end this ordeal for myself, my wonderful family, my fiancee, my friends and supporters," Albert said.
He declined to answer any questions.
The case became the latest celebrity trial, featuring the requisite high-powered lawyer, saturation media coverage, instant analysis by a new industry of legal commentators and a steady stream of sensational details. This time, a courtroom in suburban Virginia became the stage for a tawdry drama, in which Albert's fiancee, parents, and children listened as two women described being attacked and bitten in sexual encounters in hotel rooms. The women said Albert asked them to bring along a third participant, and, in one instance, he was described as wearing women's underwear.
The guilty plea was the surprise conclusion to a humiliating public ordeal for Albert, a sports-crazed grocer's son who rose to become one of the most prominent announcers in the country. As familiar as he was behind a microphone, calling play-by-play, he became a celebrity in his own right, appearing 100 times on David Letterman's NBC and CBS late night shows.
"All I wanted to do then was all I wanted to do now -- be at every game, announce every basket, keep track of every point," Albert said in his 1993 book, "I'd Love To But I Have A Game: 27 Years Without A Life."
Even with a pending lighter sentence, Albert, 56, faces a dim future as a sportscaster. NBC, which allowed him to continue working after he was charged by a grand jury in May, said in a statement that Albert "asserted his innocence and assured NBC's senior management that there was no basis whatsoever to the charges," adding, "Today, given Mr. Albert's plea of guilty to assault and battery, NBC terminates its relationship with Marv Albert."
The woman with whom Albert was involved complained that he bit her back and forced her to perform oral sex in a hotel room after he had broadcast a Knicks game on Feb. 12 in Landover.
As the chief witness against him, the woman testified on Tuesday how sex had played a major role in their 10-year friendship but that Albert grew angry with her that night because she did not bring along another man to join them, as he had requested.
On cross-examination, Albert's lawyer, Roy Black, who in 1991 won an acquittal for William Kennedy Smith in a Florida rape case, had only limited success trying to portray the woman as a liar who had actually enjoyed the sexual activities she claimed she later found objectionable.
But on Wednesday, prosecutors appeared to surprise Black by calling another woman to the stand, a former friend of Albert's who told the 12-member jury that he had biten her twice, in 1993 and 1994, and in the second instance, while wearing women's undergarments had tried to force her to perform oral sex.
The prosecutors had been expected to end their case on Thursday, and Black had intended to open Albert's defense by introducing evidence to bring at least the first woman's credibility into question.
But Black said after the deal was announced that Judge Benjamin Kendrick blocked most attempts by the defense to challenge the woman's credibility through cross-examination and the introduction of evidence through other witnesses. As a result, Black said he was persuaded to recommend that his client accept the prosecutors' offer.
"Eighty-five to 90 percent of the defense was excluded," Black said. "Because of that, it made it difficult for us to proceed as intended." If Kendrick had ruled otherwise, he added, "we would not be in the position we are right now."
Nonetheless, Black struck one note of triumph, pointing out that the more serious charge, "the major issue we were litigating," was dropped. "That made it palatable for us," he said.
The agreement came after a succession of closed meetings that began even before the jury of seven women and five men was summoned for the start of another day in court. At one point, it appeared the prosecutors had more ammunition against Albert when the lawyers returned to the courtroom and Richard Trodden, the Commonwealth's attorney for Arlington County, told the judge he had one more witness to call. But at that point, the room quickly cleared again, Albert met with his lawyers and the agreement was announced about two hours later.
Describing assault and battery under Virginia law as "the unlawful touching of another human being in an angry, rude or vengeful manner," Trodden told reporters after the plea arrangement was announced that prosecutors felt comfortable offering Albert a deal and that the Virginia woman had agreed it.
He said the testimony of the second woman, which helped establish a pattern of behavior and offset Black's efforts through cross-examination to draw the first woman's credibility into question, had a "profound" influence on Albert's decision to accept the plea bargain.
Trodden also defended the deal, inasmuch as after so much testimony about sex, the sodomy charge was dropped.
"As you will remember," he said, "part of the Commonwealth's opening statement was that this was a coarse, crude abuse of a human being. That was the heart of the case, not what titilates the press, with all due respect."
With all the graphic testimony about sex, the trial quickly became ripe fodder for tabloid newspapers and comedians. Yet the proceedings caused obvious discomfort to Albert's fiancee, Heather Faulkiner; his elderly father, Max; his son Kenny, and other relatives and business associates who listened to unflinching witnesses descriptions of Albert's sexual preferences.
Before sentencing, which is scheduled for Oct. 24, Kendrick ordered a standard investigation of Albert's background, including his finances and psychological state, to help him determine the appropriate punishment.
The case shatters the realization of a long-held dream. Born Marvin Philip Aufrichtig, he had by the eighth grade an imaginary radio station, WMPBA, with interviews, commercials and game coverage. His sports obsession led to jobs as a ballboy at the old Madison Square Garden, then in 1966, the radio voice of the Rangers. The next year, he became the radio voice of the Knicks, and his career continued to climb: by 1975, he was the sports anchor for WNBC-TV/Channel 4, in New York. By 1977, he was calling boxing, college basketball and pro football for NBC Sports. In 1979, he became the TV voice of the Knicks, first on WOR-TV/Channel 9 in New York and then, as now, on the MSG Network.
Over the years, Albert's signature phrase -- "Yes," shouted with undisguised glee after a basket had been sunk or a hockey goal scored -- become widely imitated.
Fans like Jim Power, 34, a foreman with Time Warner Cable who said he had been following the case closely because he had been listening to Albert since the 1970s, were stunned by the charges, then saddened as the trial unfolded.
"I like Marv and I don't want to see him go to jail over this," Power said. "It bothers me because I have been following him since I was a kid and he's a good sports announcer."
Bob Dachille, a sales manager from East Meadow, N.Y., said he was not surprised by the guilty plea. "I'm not surprised what lurks in people's closets. I'm disappointed."
In a statement released late on Thursday afternoon by MSG, Albert said: "I fully understand the position in which the networks found themselves due to my very painful situation." He added, "I step aside with deep humility and seek to reconstruct my personal and professional life."