Excerpts from brief filed by Clinton lawyers concerning oral sex by Paula Jones in the parking lot
Clinton's legal team raised the issue of Jones's sexual history in a brief filed Jan. 7. The president's lawyers wrote that a deposition taken by Jones herself had proven Jones was no "innocent minister's daughter" who would be traumatized at being propositioned by their client. They cited a deposition from a man who testified she engaged in oral sex with him in the parking lot of a bar the same night they met, just months before the alleged May 8, 1991, incident with Clinton. Here is a excerpt from the January 7, 1998 legal brief (pages 15-16).

_________________________________________________________________

The Court Should Not Limit Discovery into Plaintiffs Sexual Conduct.

At the same time she is seeking unfettered discovery against the President, plaintiff makes another attempt to limit the scope of discovery with her respect to her own conduct. (Mot. at 8-10). Plaintiff omits to mention that she has claimed damages based solely on emotional suffering and that she has also asserted a claim for intentional infliction of emotional distress. Moreover, as the court has stated, such discovery is necessary to locate and preserve evidence that the defendants may need for rebuttal.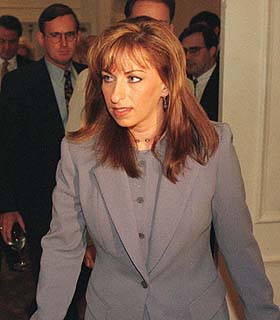 Paula Jones was known for her reputation for giving blowjobs in parking lots
---

For example, plaintiff recently noticed and took the deposition of Michael King, who testified that he met Ms. Jones at a bar just a few months before the alleged May 8, 1991 incident, that plaintiff willingly engaged in sexual conduct with him in his car in the bar parking lot the evening they met, and that at a subsequent encounter at the same bar a few weeks later, plaintiff initiated oral sex with him. This testimony would be relevant to plaintiff's claim that she suffered emotional distress as a result of a man allegedly disrobing and asking her to perform oral sex, and would certainly be relevant as potential rebuttal testimony should plaintiff assert at any trial that she was innocent ministers daughter, or that she was unfamiliar with oral sex, or that the alleged encounter with Governor Clinton was responsible for any disruption in her relationship with her fiancÚ, now husband.

Plaintiff also complains that the court is over solicitous of the President, but appears to lack "any concern for potentially embarrassing Plaintiff, with respect to equally damaging and irrelevant information." (Mot. at 11) (emphasis in original). This court has already given the plaintiff an extremely wide berth, allowing her to pursue "other conduct" discovery far broader than that allowed in any other case of which we are aware.

The court in fact has essentially not limited discovery in this regard; it simply has imposed a sequence in which questions must be posed to Jane Doe deponents.

Additionally, the court has taken every step to minimize the disclosure of this kind of information with respect to both parties, by placing all discovery under seal, and by repeatedly stating that only a limited amount of "other acts" conduct will be admitted at trial against either party. Accordingly, there are no grounds for limiting discovery regarding plaintiff at this point.

...............

Respectfully submitted,

By: _________________ Robert S. Bennett, Esq. Carl S. Rauh, Esq. Mitchell S. Ettinger, Esq. Amy Sabrin, Esq. Kathrine S. Sexton , Esq. SKADDEN, ARPS, SLATE, MEAGHER & FLOM LLP 1440 New York Avenue., N. W. Washington, DC 20005 (202) 371-7000

Kathlyn Graves, Esq. WRIGHT, LINDSEY & JENNINGS 200 West Capitol Avenue Suite 2200 Little Rock, Arkansas 72201 (501) 371-0808

Stephen Engstrom, Esq. WILSON, ENGSTROM, CORUM, DUDLEY & COULTER 809 West Third Street Little Rock Arkansas 7202 Counsel to President William J. Clinton

Dated: January 7, 1998

* Deposition of Michael King, Dec. 29, 1997, at 4-60. We will provide the court with a transcript of Mr. King's deposition if the court desired.
---
------------------------------------------------------------------------------------------------------------

The entire brief, in Adobe Acrobat format, may be downloaded from the Washington Post website, at the following address:

http://www.washingtonpost.com/wp-srv/politics/special/clinton/stories/jonesdocs101998.htm

or viewed directly at: http://192.215.235.13/1019jones/19980107-216.pdf

Background information is at http://www.shamema.com/parking.htm

Sam Sloan
---
Here are links:
---
Here are more links:

---
Here are more links:

Contact address - please send e-mail to the following address: Sloan@ishipress.com