HEAD>
ZSUZSA POLGAR REQUIRED TO PAY $25 TO GET INTO KASPAROV - DEEP BLUE MATCH
by Sam Sloan

Zsuzsa Polgar, the Woman's World Chess Champion, was required to pay an admission fee of $25 to get in to watch the Kasparov - Deep Blue, Man vs. Computer, Chess Match.

Prior to the match, Zsuzsa asked Michael Cavallo, the new Executive Director of the United States Chess Federation, for tickets to the match. Cavallo replied that the USCF had received only 50 tickets to the match and had given them all away, so there was no way that he could get her in to see the match.

As a result, Zsuzsa paid $25 cash money to get into the match. Her husband, Cobi Shutzman, also paid $25. Numerous other distinguished chess personalities, such as Grandmaster William Lombardy and International Master Walter Shipman, paid $25 each to get inside.

Inside the match, the seats were filled with chess political officials and bureaucrats, from board members down to the lowest office secretaries, many of whom do not even play chess and all of whom had paid nothing to get into the match, whereas the World Chess Champion had paid $25 to get in.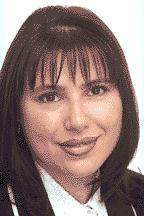 The presence of Zsuzsa Polgar was immediately recognized by the few real chess players in the match. She was invited onto the dais to provide her commentary on the match.
Even then, the much lower rated male commentators, such as International Masters Michael Valvo and Maurice Ashley, frequently interrupted Grandmaster Zsuzsa Polgar to give a man's view on the match. They barely let her get a word in edgewise.
Probably, most of the TV audience did not realize that Zsuzsa Polgar is a much stronger chess player than either Valvo or Ashley. They probably thought that she was just up there to provide a pretty face.
Zsuzsa's comments on the match were quoted in The New York Times and elsewhere. For Zsuzsa's comments on the match, see: http://www.samsloan.com/pay-ches.htm
Zsuzsa has been paid nothing for her television appearances concerning the match. She has not even gotten her $25 back.
Sam Sloan
---
For more about the above incident, see: Zsuzsa Polgar and the twenty-five dollars.

For Zsuzsa Polgar's comments on the match, as quoted in The New York Times, see: Computer Defeats Kasparov, Stunning the Chess Experts.
---
Here are some of the exciting latest developments in the Garry Kasparov - Deep Blue, Man vs. Compurter Chess Match:
Kasparov Demands Deep Blue Printouts Be Sealed.
Susan Polgar and the Kasparov - Deep Blue Chess Match.
Deep Blue Battles Kasparov to a Draw .
---
Contact address - please send e-mail to the following address:
Sloan@ishipress.com