A girl from Patpong Road, Bangkok, Thailand
Do you know that I cannot even really remember this girl. Yet, I am sure I got her. Otherwise, how would I have this picture of her in my hotel room wearing only the hotel towel.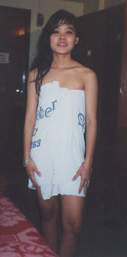 There are so many nice and beautiful girls over that there is just no time for them. I find it difficult to think of this girl as a prostitute, even though she is.
---
Contact address - please send e-mail to the following address:
Sloan@ishipress.com