Court Decisions about Pornography on the Internet
Nobody seems to know what the law of pornography on the Internet is these days. Is there any law? I decided that I better find out about this subject, as my web site is starting to "sail close to the wind" as United States Supreme Court Chief Justice William Rehnquist once said about me in a different context.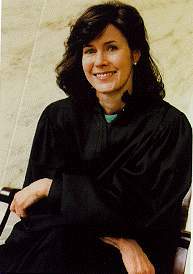 I have found that the only way to get people to read one of my web pages is to post a picture of a beautiful girl. Therefore, here is former Playboy Bunny trainee and presently United States District Judge for the United States District Court for the Southern District of New York, Judge Kimba H. Wood.
---

UPDATE: In a great blow for civil liberatatians, the United States Congress voted yesterday that all Americans, including families and children, will be allowed starting on Monday to have Free access to pornographic literature, at governmental expense.
---
---
This seems to be the leading case: RENO, ATTORNEY GENERAL OF THE UNITED STATES, et al. v. AMERICAN CIVIL LIBERTIES UNION et al..

Here are other major court decisions pertaining to pornography on the Internet. This list is by no means complete:



---
Here are links:

My Home Page

Contact address - please send e-mail to the following address: Sloan@ishipress.com