Girl on Patpong Road in Bangkok, Thailand
I did not get this girl. I just took her picture. A girl like this in America would be the girl of my dreams. I see her in Thailand, but girls of this quality are so common over there that I do not even notice them.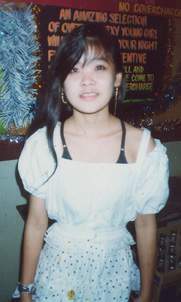 Although this girl is a prostitute, I am sure that she is a very nice girl.

Notice the sign behind her. It says, in part: "Please come to enjoy and try us. No cover charge. An amazing selection of over 60 sexy young girls."

This is a considerable understatement.
---
Contact address - please send e-mail to the following address:
Sloan@ishipress.com