Ranjani, a Domestic Servant from Central Sri Lanka
Ranjani is holding my daughter Jessica in the front yard of my house in Fujairah, United Arab Emirates in 1989. Behind Ranjani is an Arab girl.

Ranjani is from Kitulgala, the town where the movie "Bridge on the River Kwai" was made. (A little known fact is that the movie " Bridge on the River Kwai " was not made in Thailand. It was made entirely in Sri Lanka.)

Her full name is Miss Arachchilage Vinitha Ranjanie Perera. Date of Birth 1969-05-03. Height 4'9". Hair Black. Eyes Black. Passport No. J0556838. Identity Card No. 69 6512396V. She probably still wants a job, so, if you want her, you are welcome to her.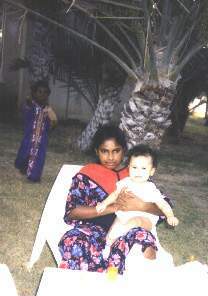 Arachchilage Vinitha Ranjanie Perera holds Jessica Sloan
Order the Video of "Bridge on the River Kwai"
---
Here are links:

My Home Page

Contact address - please send e-mail to the following address: Sloan@ishipress.com