GARRETT SCOTT EASILY WINS ELECTION TO USCF POLICY BOARD
by Sam Sloan

ORLANDO, Florida, August 7 - Garrett Scott easily won election to the Policy Board of the United States Chess Federation, it was announced yesterday. The votes were opened and counted yesterday, although most votes had been cast weeks ago. Only votes by mail are allowed in USCF Elections.

Although Scott was always the favorite, even his supporters did not think that he would win by such a wide margin. Scott received 194 votes. Prince had 138, followed by Blackstone with 7, Sloan with 6 and Marcus Roberts with 5.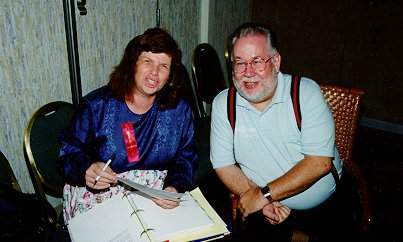 Garrett Scott (right) receives his certification as an elected Policy Board member from USCF Secretary Rachel Lieberman (left)
---

As there were 464 voting members entitled to vote, it appears that 104 persons did not vote.

I am not disappointed about losing so badly, because I knew that I had no chance. I had personal family problems just during the campaign period which prevented me from getting my campaign started, which is probably just as well anyway.

I am sure that the other losing candidates, several of whom spent thousands of dollars on their campaign, are deeply disturbed by the result. All of them mounted an extensive campaign with numerous expensive mailings and phone calls.

The winner, Garrett Scott, was the machine candidate supported by Don Schultz, Bill Goichberg and Harold Winston. His mailings consisted entirely of "happy talk." Throughout his entire campaign, Scott never took a position on any issue. His campaign mailings consisted of bland reports on the US Junior Championship he was directing, a job which was given to him by political insiders to bolster his candidacy. ( Funny that he never made such tournament reports when he was not a candidate. ) Scott's mailings contained generalized statements that it would be good to have chess on the Internet, even though, among all five candidates, only Scott has no Internet presence and has never posted to an Internet newsgroup.

Scott was the only candidate who did not promise any efforts to bring about change and reform in US Chess, reform which is desperately needed. The fact that a business as usual candidate would win so easily in a year when there is widespread dissatisfaction among chess players shows that the 464 voting members are simply out of touch with the membership.

A further disturbing fact is that 22% of the voting members did not vote at all. With 85,000 USCF members denied the right to vote, the theory that only a few highly qualified individuals should receive the voting privilege seems ridiculous, especially since, in practice, many voting members have no chess qualifications whatever and are merely friends of the state association officials who get to select the voting members.

Each voting member received over a dozen campaign mailings and numerous phone calls from the candidates. They received information which regular dues paying members are not able to obtain. The postage alone spent on contacting the voting members who never voted was a waste.

The fact that a man like Scott with almost no chess qualifications, other than his own 1603 rating, a man who is completely unknown outside of the small political group which has for far too long controlled US Chess, could win election so easily is deeply disturbing.

Sam Sloan
---
Here is a link: USCF Election Campaign Underway
---
Contact address - please send e-mail to the following address:
Sloan@ishipress.com