Tripp: No Stranger To Controversy

WASHINGTON (AllPolitics, June 29) -- Allegations that President Bill Clinton had an affair with former White House intern Monica Lewinsky were first raised by a largely anonymous figure and career government worker, Linda Tripp.
The woman who has become one of the key figures in the Lewinsky investigation grew up in a middle-class neighborhood in Whippany, N.J.
Going to school she was considered one of the pack, known more for her height than for gossip. Leslie Skurla, a high school friend, said, "She was one of the girls, one of the guys, yes. She was not a standout nor was she a follower. She was right in the pack."
She is said to have been profoundly affected by her parents' divorce while she was still in school. Her father was accused of having an affair.
She herself married at 21, had two children and divorced in the early '90s. She followed her military husband to Europe, where she took her first government post in 1984.
It was not until later, when she had returned to the United States, that Tripp became embroiled in presidential controversy. Since then, though, Tripp has been no stranger to White House controversies, nor to allegations of sexual indiscretions by presidents.
In testimony to Congress in 1995, Tripp defended White House conduct under the Clinton Administration in the aftermath of Deputy White House Counsel Vince Foster's 1993 suicide. However, she later criticized the White House treatment of Foster's death as suspicious in a 1994 book proposal reported in the New York Times.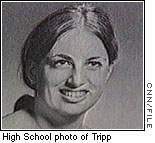 Tripp worked in the counsel's office and was among the last people to see Foster alive.
Her name is also associated with a Bush Administration controversy. Tripp was known as a source of never-proven allegations about President George Bush's personal life.
Once again, she is at the center of two potentially devastating allegations, this time against Clinton.
It was Tripp who first brought former White House volunteer Kathleen Willey to the attention of Paula Jones' legal team, alleging the president made improper sexual advances toward Willey.
Tripp told Newsweek in 1997 that Willey emerged from the Oval Office disheveled with her makeup smeared and told Tripp about an alleged incident with Clinton.
Tripp's allegations have made her a central figure in the Jones civil-rights lawsuit. Her recordings are Exhibit A in an investigation of whether the president asked a witness to commit perjury and conspired to obstruct justice himself.
In response to her allegations, Clinton attorney Robert Bennett called Tripp's account a pack of lies, while White House aides labeled her a reckless gossip.
But when Willey was ordered by a judge to give sworn testimony in the case, sources say her affidavit confirmed Tripp's account of unwanted advances.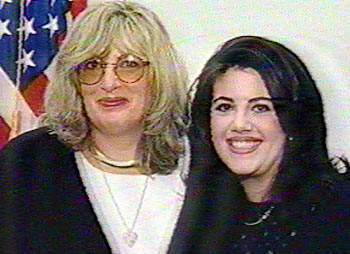 Tripp associates say her anger at being labeled a liar by Bennett was one reason she decided to record her conversations with Lewinsky. She wished to clear her name, and was advised by her literary agent Lucianne Goldberg that the best way to do that would be to tape her conversations with Lewinsky.
Tripp proceeded to tape 20 hours of conversation with Lewinsky, conversations which have been alternately described as damaging to Clinton and to Lewinsky. The most recent reports on the content of the tapes, made by U.S. News & World Reports, said that the tapes record Tripp leading Lewinsky's confessions and encouraging her to ask the president for a job.
Critics have said that the taped conversations were intended for a book she was planning to write with the assistance of Goldberg, which Tripp had pitched as "Behind Closed Doors -- What I Saw at the Clinton White House." Tripp backed out of the deal, however, citing editorial differences and worries about her job.
Since coming forward with the tapes, Tripp has faced the public spotlight herself. She has received hate mail and death threats, leading her to go into hiding, continuing her Pentagon work by laptop from home.
The media attention has brought allegations against Tripp as well. A New Yorker article was published in March, stating that Tripp may have lied about a 1969 arrest in her security clearance application.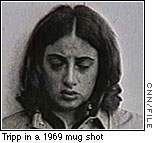 The article reported that Tripp had been arrested in 1969, at the age of 19, for grand larceny and later pled guilty to loitering. Tripp said that she understood the charges to have been expunged, and that she answered the questionnaire truthfully to the best of her knowledge.
Tripp's desk remains waiting for her undisturbed in the basement of the Pentagon. For now, she is on flex-time and claims that she has been demoted to mere menial work, though her salary remains $88,000 a year.
An accounting of Tripp's past work experience was released by the Pentagon during the controversy over her legal history, and included the following information: Work Experience
White House, Executive Assistant to White House Counsel Bernard Nussbaum 1993 to ??? (she came to the Pentagon in August 1994)
White House, Executive Assistant, worked for senior advisor Bruce Lindsey January 1993 to April 1993
White House, Executive Assistant to the Deputy Chief of Staff 1992
White House, Special Assistant to the Assistant to the President for Media Affairs 1991 to 1992
Department of the Army, Office of Deputy Under Secretary for Operations Research, Secretary/Stenographer 1990
Department of the Army, Classified Assignment (Operations Assistant), Fort Bragg, North Carolina 1988 to 1989
Department of the Army, Army Intelligence Command, Classified unit (administrative assistant), Fort Meade, Maryland 1987
Department of the Army, HQ Allied Forces Europe, Personal Assistant to the United States Representative, Brunssum, Belgium 1984 to 1987
Other
Written and oral fluency in German
Sustained Superior Performance Awards
Maintained top secret clearance
Extensive foreign travel