Monique Viele, Hot Prospect in Tennis
The Macci Tennis Academy in Fort Lauderdale has issued a press release saying that Monique Viele, a top junior in Macci's stable, will turn pro after her 14th birthday this week. "We also are exploring the possibility of legally challenging the age eligibility rule of 14 that the WTA now enforces," the release adds. "We feel it inhibits Monique from making a living."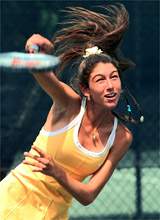 Monique Viele
---

More disturbing than this announcement is the academy's breathless characterization of Monique, who's from Coral Springs. At a time when the WTA vows to market its players as athletes and not underage sex symbols, the Macci release says of Monique, "She rivals a champion thoroughbred with her physical grace and beauty. Her long, lean, tanned, muscular legs are both an attribute to her good looks and her speed on the court. Her physique is astonishing...she looks more like a supermodel than a tennis player." Even her "sea green eyes" don't escape mention.

Monique's results are encouraging. By 11 she had a top 40 ranking in Florida's girls' 18 division, and this year she became the youngest player ever to win the 18 division of the Florida Open.
---
Here are links:

Contact address - please send e-mail to the following address: Sloan@ishipress.com