Anna Kournikova withdraws from Wimbledon with thumb injury
Monday June 22, 1998 11:30 AM

WIMBLEDON, England (AP) -- Anna Kournikova, a semifinalist last year at Wimbledon, withdrew Monday from the tournament with torn ligaments in her right thumb, tournament referee Alan Mills said.

The 17-year-old Russian injured the thumb last Thursday at Eastbourne during a three-set victory over seven-time Wimbledon champion Steffi Graf.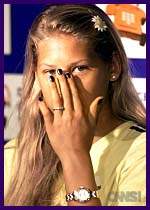 Anna Kournikova injured her thumb during her match in which she defeated Steffi Graf last week.
---

Kournikova, among a half-dozen rising teen-age stars on the women's circuit, was reported to have visited a specialist over the weekend at Wimbledon.

She was seeded No. 12 and replaced in the tournament bracket by lucky loser Lilia Osterloh of the United States.

---
Here are links:


Contact address - please send e-mail to the following address: Sloan@ishipress.com