One can only wonder what Bill Clinton was thinking as he looked upon this elephant.
With all his jokes about barnyard animals, as related by former stewardess Cristy Zercher, one can imagine that the President must be thinking about moving up to larger females.

Bill Clinton contemplates an Elephant
---
The President certainly needs to do something drastic to escape his troubles with women.



Here is a link: President and Hillary Clinton tour former prison cell of Nelson Mandela.

Top News Story: Elizabeth Ward Gracen Finally Admits It: Yes, I did. I had sex with the President. "He's a very charming, handsome man".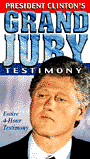 Order the Video of Clinton's Testimony
Order Now: The Slave Children of Thomas Jefferson - Just Out
---
Here are links:

My Home Page

Contact address - please send e-mail to the following address: Sloan@ishipress.com