Elizabeth Ward Gracen has just finally gone public: Yes, I did. I had sexual intercourse with President Clinton. ... "He's a very charming, handsome man."
She insists that she neither sought nor obtained any advantage from this: "I'm not standing in front of the Titanic with Leonardo DiCaprio, am I?", she says.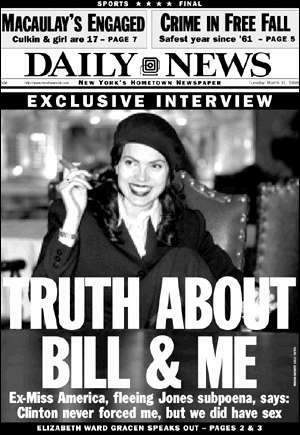 Elizabeth Ward Gracen
Makes the New York Daily News
---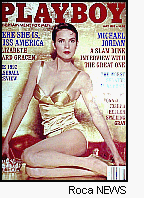 Elizabeth Ward Gracen bared all for Playboy
---

In spite of her statement that this was consensual sex, this might cause big trouble for the President, if he testified that he never had sex with her.
---

Now, the time has come to put the real criminals in jail: Paula Jones, John Whitehead, Donovan Campbell, Jerry Falwell and the kidnappers of my daughter, Shamema Sloan are all Wanted for Kidnapping

UPDATE: April 12, 1998: In an interview in a secret location, Elizabeth Ward Gracen reveals that Having sex with President Clinton "was not a great success".

Here is the article in the New York Daily News: Beaut of a Tale On Sex With Bill: Ex-Miss America says encounter was consensual .


---
Here are links: Order the Video of Clinton's Testimony.

Contact address - please send e-mail to the following address: Sloan@ishipress.com