New York Press, Dec. 1-7, 1999, Volume 12, Number 48 Brownsville Picaresque
Sam Sloan drives a yellow cab and lives rent-free in homes in poor neighborhoods. When I meet him at his place in Brownsville, he scratches his disheveled head of hair, wonders who I am and eventually invites me upstairs. The home is empty except for spare furnishings in his bedroom and a computer room with a large pile of papers on the floor.

He says he's resided in a series of properties in Flatbush, Brownsville and Bushwick, owned by a company that rehabilitates them. His job to maintain and safeguard the homes. But, most importantly, his job is to not get too comfortable. "They rely on me to move out."

Sloan, 55, is wearing a white buttondown shirt that's too small for him and black slacks. A wad of identification materials, with his Social Security Card on top, is stuffed into his shirt pocket. His feet are bare; his shoulders are inexplicably sprinkled with maroon sparkles. As he tells me his story, he occasionally he takes a slug from a bottle of Coke.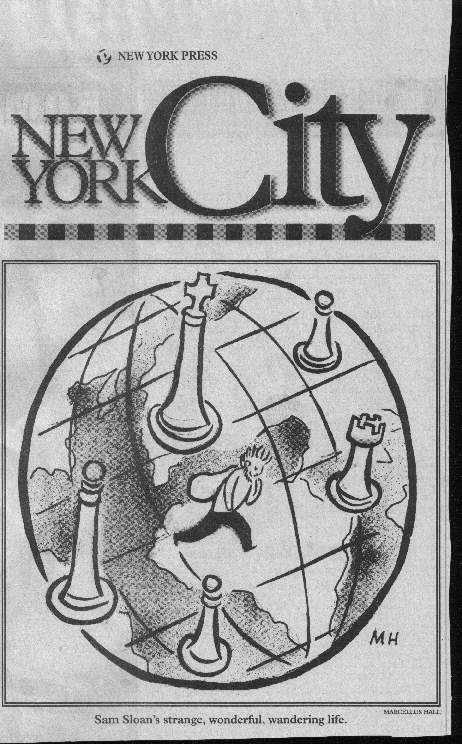 Cartoon which appeared in the New York Press
The caption reads "Sam Sloan's strange, wonderful, wandering life"


Born in Richmond, Virginia, he was gifted chess player as a child and an excellent student. After high school, he headed west, enrolling in the University of California at Berkeley, which was soon to be engulfed by student protest. Sloan joined the chess team. He also proudly served as president of a campus club everyone wanted to join: the Sexual Freedom League. Its primary purpose was bringing people together for sex parties. He says he organized 42 of these orgies between September 1966 and December 1967, and that they were attended by 1200 people. The group was written up in Time and Playboy.

He penned a graphic, unpublished memoir of his collegiate sexual adventures. Two chapters -- one describing the orgy of November 19, 1966, and the other an orgy held seven days later --- are posted on his voluminous home page (shamema.com). An excerpt: "I got up and looked around the room. A blue light emanated from the bulb in the ceiling. Four couples were lying parallel on the far side of the room. All were fucking. Other people were either standing or sitting in the room. They were watching and talking to each other. I walked around the party." Sloan notes that he had "actual sexual intercourse" with women who have developed into "prominent, important and financially successful personalities."

Armed with a degree in mathematics, our adventurer next headed for Wall Street. He got a job working in the over-the-counter trading department of Hayden-Stone, Inc., a stock brokerage firm. Within two years, he established his own firm, Samuel H. Sloan and Co. On his best day, he made $46,000 in a single trade. He says the SEC started investigating him because it was suspicious that a 26-year-old should be operating a brokerage firm. The SEC figured he was a front for organized crime or some other nefarious group, he says. Lawsuits and countersuits were filed. Years of litigation followed.

It all led to the U.S. Supreme Court. With an obscure matter of securities law at issue, Sloan defended himself in front of the highest court in the land (SEC v. Samuel H. Sloan, 436 U.S. 103). And he isn't even a lawyer.

"Several lawyers volunteered to represent me free of charge," he says. "They all had different ideas and different strategies that would not have worked." Of the nine justices he says, "They were very sharp. They were well-prepared. But (Thurgood) Marshall was sort of weak. He clearly didn't know what the case was all about." Sloan won a 9-0 decision, with William Rehnquist writing the unanimous opinion.

When the judgment came down, Sloan couldn't properly enjoy the occasion. He was sitting in a jail in south-central Afghanistan. Sloan had been using his stock money to travel the world and, despite many warnings, he drove his red 1967 Volkswagen Bettle into the jittery country just days after the coup of April 28, 1978. He was rambling around with a man named Syed Shah when both were taken into custody by agents of the new regime.

"I later learned that they [his captors] believed that Syed Shah and I had been heading to the Central Mountains of Afghanistan, where we were going to recruit new members to join the freedom fighters, the mujahidin," Sloan writes on his home page. "Of course, the truth was far from that. In reality, we were just trying to get some exotic pussy. However, I could never admit to that!"

Then Sloan escaped. He fled out an open door while his guards thought he was showering. He made his way through the desert -- crawling along a riverbed, hiding in the back of a bus -- until he reached the U.S. Embassy in Kabul. The story, told in full on his home page, is difficult to verify. But he describes the experiences in painstakingly precise detail (he killed 22 wasps one day in jail, for example), and he's careful to give the name of every embassy official who interviewed him.

Next he found his way to Pakistan, where he married a local woman. (Somewhere along the line he converted to Islam; his Muslim name is Ismail.) He became fluent in a Pakistani language called Khowar and wrote a Khowar-English dictionary, which he produced from the pile of papers on the floor in Brownsville. But the marriage broke up and a child from the union, Shamema, sent him on his next outlandish adventure. The story is long and confusing, but the cruz is this: When Sloan returned to the United States, he hired a family to baby-sit the child. The family, via a blizzard bureaucratic maneuverings, was eventually awarded custody of Shamema. Sloan says she was kidnapped and claims the family are agents of Jerry Falwell.

The whole thing was tied up in the courts for years. While waiting out the litigation, Sloan lived in Virginia and researched his next book, The Slave Children of Thomas Jefferson, published by Kiseido Publications. (His other books include Chinese Chess for Beginners and How to Take over an American Public Company.) He was also dodging the cops. He has been arrested a number of times on charges connected with the custody case. Only one arrest led to an indictment. He was convicted of attempted abduction and sentenced to five years in prison. He served 19 months in a Virginia jail before being released on parole.

He created his home page to tell the world about the plight of his daughter. The site, though, delves into every aspect of Sloan's existence. It explores his fascination with teenage girls, Third World prostitutes and beauty pageant winners.

"I always get e-mails that say, 'You are talking about the kidnapping of your daughter and I had sympathy until I saw the graphic sex stuff and I lost all sympathy.' But if I didn't put the sex stuff, no one would look at it. It is titillating, but not real porn. A couple of girls without too many clothes on is not porn."

He says most people don't believe his daughter was kidnapped.

Sloan, who has seven children from four women, has worked on and off as financial consultant for the last two decades. Since 1997 he's been driving a cab in New York. His fares have included Kate Moss, Drew Barrymore and (he thinks) Danny Glover. When I spoke to him, he was planning to move out of Brownsville and travel to Japan, where he would participate in a public stock offering. After arriving overseas, he sent out a triumphant message on his home page: He'd gotten laid!

"It only took me a week to find a girlfriend and I only went out of the house once," he crowed. "I scored so quickly because I have been able to learn to talk dirty in Japanese and English."

PETER DUFFY
---
To contact the author, please send e-mail to the following address:
PWe7631702@aol.com
---
Here are links:

My Home Page

Contact address - please send e-mail to the following address: Sloan@ishipress.com