Did this Woman Give a Blow Job to the President ?
She certainly looks like one of Bill's Concubines.

She has worked in the Oval Office for Years.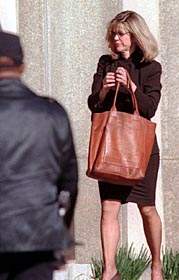 Nancy Hernreich, the director of Oval Office Operations testified before the grand jury Thursday.
---
Sensational Breaking News: Lewinsky finally admits it: "I did it for the President".

The poor guy can't get a girl! Here are All the President's Women. The latest rumors concern Kathleen Willey, White House Contributor and Debra Schiff, White House Receptionist, plus Elizabeth Ward Gracen, a former Miss America, plus Sherrie Densuk, model and former White House intern.



Here is a link: Blond Bimbos Blast Bill Order the Video of Clinton's Testimony
Order Now: The Slave Children of Thomas Jefferson - Just Out
Contact address - please send e-mail to the following address:
Sloan@ishipress.com