Hikaru Nakamura makes The New York Times
Last month, readers of this website learned that chess history had been made when Hikaru Nakamura, age 10 years 3 months, had become an officially rated US Chess Master, even though he had only been playing chess for 11 years.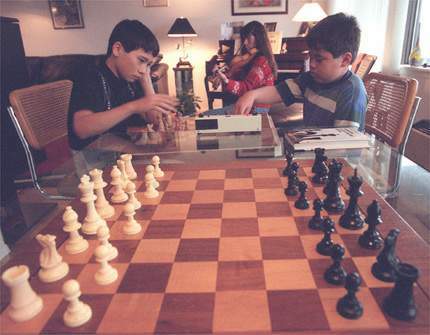 Today, readers of The New York Times are belatedly getting the same news. In this photo, Asuka Nakamura, age 12, plays chess against Hikaru Nakamura, his younger brother. Asuka Nakamura is the second highest rated player in the US age 12 and younger. His younger brother, Hikaru, is number one. That's their mother, playing the violin in the background, while her two sons play chess.
---
Here is The New York Times article: Boy, 10, Is Youngest Chess Master, Vaulting Past His Brother

You can now look up the official ratings of Hikaru and Asuka Nakamura at the US Chess Federation web site.

Here are links:




Contact address - please send e-mail to the following address: Sloan@ishipress.com