Smirin Over DeFirmian By Half Point in Liberty Bell Open:
355 Join In Largest Edition of Winter Weather Classic
_______________________________________________________________
The Liberty Bell Open had become synonymous with "Winter Weather Warnings" and "Highway Travel Advisories" in recent years. Things had just about gotten to the point where the National Weather Service in Philadelphia had circled the chess tournament dates to remind everyone of impending bad whether-- and to stay off the roads! For the last four years, Liberty Bell Open Weekend, which was a different weekend each year, featured a defining visit from Mother Nature. Snowstorms, ice storms, hail, sleet, freezing rain-- these were all too familiar sights for the veteran "Liberty Bell-er." Last year the trend culminated in the "Blizzard of '96," which deposited over three feet of snow on the city, shattering all previous records.
It was with some apprehension, then, that CCA organizer Bill Goichberg scheduled the 1997 event. Inspired by a "How many times can this keep happening?!" philosophy, he not only kept the tournament from disappearing into a wintry blizzard, he boldly made the 26th annual edition bigger than ever! Played over Martin Luther King Weekend, January 17-20, 1997-- a holiday weekend designed to draw more players-- the prize fund was raised to an unprecedented $20,000! Whether this gamble would amount to nothing more than spitting into the wind would depend, ultimately, on the weather. This year, however, Philadelphia's famed Adam's Mark Hotel was graced with clear skies and mild temperatures, resulting in the largest turnout in the tournament's history: over 355 players, who helped to bury the memories of previous years' fiascos like so many ashes in the fireplace.
The 59-player Open Section presented a formidable challenge to overcome, with 36 Masters, including 6 GM's and 4 IM's. No problem for second-ranked GM Ilya Smirin, who coasted to victory with 6 points in 7 rounds, picking up an $1,800 paycheck at the end. Ilya's last-round draw with GM Nick DeFirmian of New York City also clinched Second Place for Nick with 5½, along with $900. Five players tied for 3rd with 5-2: GM Alex Shabalov of Pittsburgh, GM Sergey Kudrin of Stamford, CT, IM Jonathan Yedidia of Irvine, CA, who each won $305, along with Rodian Rubenchik of Philadelphia and Charles Bouzoukis of Wilmington, DE, who both won $685 for Top Under 2400.
Twelve-year-old Dmitry Schneider of Hastings, NY warmed up to the competition pretty easily. He tied for First with fellow Expert Ed Frumkin of Flushing, NY in the Under 2200 Section. They both walked away with $960 for scoring 6-1. David Fenster of New York City, Richard Grogan of Yonkers, NY and Roland Yakobashvili of Philadelphia all tied for Third with 5 points, winning $183 each.
Peter La Rocco of Jersey City, NJ lost his first game, re-entered, and lost his next game as well. He then proceeded to score 5½ in the next 6 games, putting him in a 3-way tie for First in the Under 2000 Section. Also scoring 5½ points were Richard Larson of Burke, VA and Alan Macier of Lothian, MD. They each won $762.
It was all blue skies for 14-year-old Elina Groberman of Brooklyn, who ceded but one draw to capture the $1,280 First Prize in the Under 1800 Section with 6½ points. Tied for 2nd-4th with 5½-1½ were fellow Brooklynite Leonid Golster (Groberman's lone draw), "Bughouse" King Robert Dodge of King-of-Prussia, and 17-year-old Lawrence Wong of Stamford, CT. They each earned $400.
Mago Jagizarov of Cherry Hill, NJ tallied 6½ points to win the $1,280 First Prize in the Under 1600 Section. John Frisk and William Shieh, both of Philadelphia, tied with New Jersey player Danilo Concecion for Second, taking home $400 each. Young Chris Carnevale of Swampscott, MA likewise dispatched his first six opponents and drew his final game, clinching the $1,100 First Prize in the Under 1400 Section with 6½ points. James Endler of Chicago and Leteef Street of Philadelphia each won $411 for tying for Second with 5½. The youngest prizewinner of the weekend was 10-year-old Rostik Goltser of Brooklyn. His payday was $640 for clinching First in the Under 1200 Section, with 6 points. Nuri Boardman of Cherry Hill, NJ and John Fleming of Philadelphia tied for Second with 5½-1½, to win $275 each.
In the Under 1000, Under 800 and Unrated Players' Section, trophies were awarded to the top scorers in lieu of cash prizes, but the games were just as hard-fought. Douglas King took First on tiebreaks over Anthony Miehle in the Under 1000 Section. Both scored 6 points, while Malcolm Alston edged out Andrew Goldberg, who both scored 5-2. Akeem Gregory-Thompson sailed through the Under 800 Section, winning all 7 games. Francisco Castellanos placed Second with 5, while Rebecca Levy took Third with 4½. Finally, Eric Benson undoubtedly enjoyed his introduction to chess tournaments. He posted the tournament's only other 7-0 sweep, defeating everyone he played in the 30-player Unrated Players' Section. Joshua Trott was Second with 5½, while Robert McClendon took Third on tiebreaks.
Steve Immitt directed the 80 Grand Prix Point Open for the Continental Chess Association, assisted by International Arbiter Sophia Rohde.

TO: Mike Franett, Editor, "Inside Chess"
(206-448-1066, FAX: 206-441-4736)
FROM: Steve Immitt, Marshall Chess Club, New York City
(212-477-3716, FAX: 212-995-9281)
DATE: May 8, 1997
Here is more chess tournament news from Steve Immitt: Steve Immitt's Chess News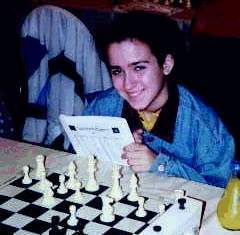 Here is a link: Irina Gets Krushed: The Squashing of a beautiful Russian girl
Here is more chess news: Chess News
---
Contact address - please send e-mail to the following address:
Sloan@ishipress.com