She is Not a Bimbo
Monica Lewinsky is Really in Charge After All - Contrary to Popular Belief, She is Very Bright and Knows Exactly What She is Doing.

Recent developments have established that Monica S. Lewinsky is much brighter than anybody had imagined and has substantially been conducting her own legal defense from the beginning.

Although Lewinsky changed lawyers, she did not change her legal strategy. This is because she dictates her strategy to her lawyers, not the other way around.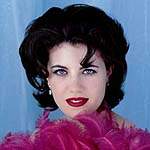 Photo of Monica Lewinsky as published in Vanity Fair magazine. True: She looks like a bimbo, but she is not.
---

Even before she had a lawyer, she had already laid out her own strategy, strategy which she continues to follow to this day.

Last January, Ms. Lewinsky was confronted by agents from the Federal Bureau of Investigation and lawyers working for Starr, who questioned her for hours. They threatened to prosecute her for perjury by using her taped confessions to a friend about an affair with the President -- a relationship that she had denied in sworn testimony in the Paula Corbin Jones sexual misconduct lawsuit.

The lawyers and agents told Ms. Lewinsky that she could avoid prosecution if she agreed to secretly record her conversations with Betty Currie, the President's personal secretary, and with the President himself. Ms. Lewinsky declined.

Almost anybody confronted with agents of the Federal Bureau of Investigation and asked to record telephone conversations or else face criminal prosecution would do so. Instead, Lewinsky hired a lawyer, Ginsburg, and conducted negotiations through him.

Ginsburg submitted a proffer -- a statement of expected testimony -- for Ms. Lewinsky that confirmed a sexual relationship with the President. However, the proffer did not say that the President or his allies had encouraged Ms. Lewinsky to lie under oath in the Jones case. That account did not satisfy Starr. Ginsburg argued in court that Starr had offered Ms. Lewinsky immunity, but he lost.

Now, six months later, Lewinsky has made exactly the same deal that she offered to make in January. Reading the fine print, it is clear that Lewinsky did not cave in and finally agree to testify against the President. To the contrary, Starr caved in and agreed to give Lewinsky full immunity, something which Starr had not been willing to give before.

Lewinsky can now say anything she wants. She can even say that she never had sex with the President. If she says that, she can only be prosecuted for perjury. She will now have full immunity from prosecution for any other crimes she may have allegedly committed.

Since it is now apparent that Lewinsky herself wrote the "talking points" memorandum, she could have been prosecuted for that, since the talking points memo implies that Tripp should lie. This is probably what induced Lewinsky to make the deal she made with Starr.

Since Lewinsky clearly knows what she is doing, far be it from me to offer any suggestions. However, as I believe she realizes, her best strategy is still ultimately to deny any sexual relationship with the president.

An example of what will happen to her otherwise can be seen from the case of Judith Campbell Exner who was pursued for years by both the FBI and the CIA and who was hauled before Congressional Committees who wanted to force her to admit that she had been the President Kennedy's mistress. When, under enormous pressure, far more pressure than Lewinsky is now under, Exner finally admitted it, she was slandered and vilified and continues to be so until this day.

Sam Sloan
---
Here are links:

Contact address - please send e-mail to the following address: Sloan@ishipress.com