Kandy Esala Perahara
Kandy's big attraction is the Kandy Perahera, a 10-day festival that leads up to the full moon in the month of Esala (which usually coincides with late July or August). Held to honor the tooth of Buddha, the festival is a lively, frenetic parade of drummers, dancers, and around 80 brightly-dressed elephants. The tooth is brought out of its usual resting place, though kept in its golden casket, and is paraded through the streets on the back of the lead elephant.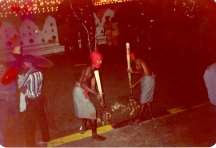 Kandy Perahara


The Kandy Perahara is held at night, because elephants stop working in the afternoon. After 1:00 PM, the elephants go into the water to cool off. Due to the impossibility of getting the elephants to march around in the afternoon, the Perahara is held at night.

In this photo, taken at night, it is possible if you look carefully to make out the outlines of three brightly colored elephants.
---
Here are links:
---
Contact address - please send e-mail to the following address:
Sloan@ishipress.com