Here is the ticket which Charles and Shelby Roberts used to kidnap my daughter, Shamema Honzagool.
As can be seen, the ticket is dated 7 OCT '90, the same day that my daughter was kidnapped from the front yard of my house. The ticket is for Gulf Air flight GF 003 leaving Abu Dhabi at 9:00 AM on 8 OCT. and then TWA flight TW 783 leaving London at 18:45 on 8 OCT on a flight to Washington.

This was a return ticket. The return part from Washington to London to Abu Dhabi was left open. This may have been done to let Shamema believe that she was coming back to her home, or the airline may have simply insisted that there be a return ticket.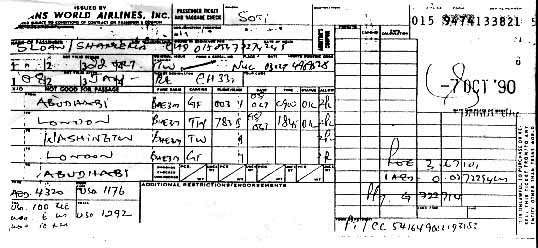 Here is airline reservation: The Airline Reservation
Here is a link: Wanted for Kidnapping
---
Contact address - please send e-mail to the following address:
Sloan@ishipress.com