Clipping from Richmond News Leader September 5, 1956
GODBOLD CAPTURES CHESS CHAMPIONSHIP


"CONGRATULATIONS EXTENDED TO SAM SLOAN, 11. Young Sloan bested former Richmonder W. R. Akins"

Caption to the other photograph reads: "GODBOLD (right) plays final game of tournament in Charlottesville. Opponent is William Wirth, President of Richmond Chess Club, who held Godbold to a draw."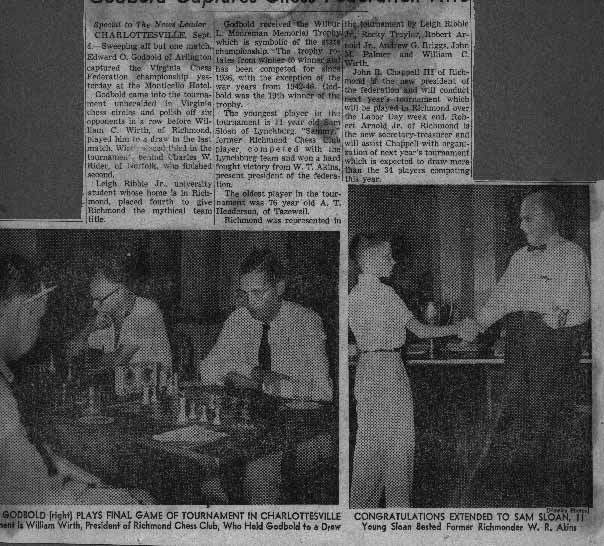 SAM SLOAN, 11, bested former Richmonder W.R. Akins

Special to the News Leader

CHARLOTTESVILLE, Sept. 4 - Sweeping all but one match, Edward O. Godbold of Arlington captured the Virginia Chess Federation championship yesterday at the Monticello Hotel.

Godbold came into the tournament unheralded in Virginia Chess circles and polished off six opponents in a row before William Wirth of Richmond played him to a draw in the last match. Wirth finished third in the tournament, behind Charles W. Rider who finished second.

Leigh Ribble, Jr., university student, whose home is in Richmond, placed fourth to give Richmond the mythical team title.

Godbold received the Wilbur J. Moorman Memorial Trophy which is symbolic of the state championship. The trophy passes from winner to winner and has been competed for since 1936, with the exception of the war years from 1940-44. Godbold was the 13th winner of the trophy.

The youngest player in the tournament was 11 year old Sam Sloan of Lynchburg. "Sammy", former Richmond Chess Club player, competed with the Lynchburg team and won a hard fought victory from W.R. Akins, present president of the federation.

The oldest player in the tournament was 76 year old A.T. Henderson of Taswell.

Richmond was represented in the tournament by Leigh Ribble, Rocky Traylor, Robert Arnold, Jr., Andrew G. Briggs, John M. Palmer and William C. Wirth.

John H. Campbell III of Richmond is the new president of the federation and will conduct next year's tournament which will be played in Richmond over Labor Day week end. Robert Arnold Jr. of Richmond is the new secretary-treasurer and will assist Campbell with the organization of next year's tournament which is expected to draw more than the 34 competing this year.
---
Here are links:

Sam Sloan's Chess Page


Contact address - please send e-mail to the following address: Sloan@ishipress.com