Zsuzsa Polgar wins New York City Blitz Championship
Playing in her first tournament since winning the Woman's World Chess Championship in 1996, Zsuzsa Polgar was the surprise winner of the New York City Blitz Championship last night, topping a field that included three other strong grandmasters.
The tournament was held at the Marshall Chess Club on May 15. Steve Immitt directed. The rate of play was five minutes per game. In each round two games were played against the opponent.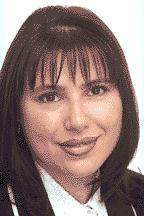 Zsuzsa Polgar
---

After the tournament, Zsuzsa said that she was surprised herself at the result, winning such a strong tournament after such a long absence from competitive chess.

Zsuzsa scored 11-3 in the seven round, 14 game event. Tied for second were grandmasters Igor Novikov and Max Dlugy with 10 1/2 - 3 1/2. Next were Yaacov Zilberman and Mark Paragua with 10-4.

Not only did Zsuzsa score the most points, but she also played the strongest field. She played all of the other top prize winners: Novikov, Dlugy, Zilberman and Paragua, the only player to do that. Her average opponent was rated higher that the average opponent of any other player in the tournament.

The reason Zsuzsa won is that she broke even in her three matches against the other three grandmasters, but she wiped out the rest of the field, winning all of her games against non-grandmasters. All of the other grandmasters dropped at least one point against a non-grandmaster. For example, Novikov, the highest rated player in the tournament, lost to both Oleg Shalumov (2337) and Jayson Gonzales (2366). Dlugy gave up draws to Mark Paragua and Mikhail Kekelidze (2461) and dropped a point and a half to Yaacov Zilberman.

The surprise entry in the tournament was Rusudan Goletiani, a 19-year-old girl who had just gotten off the airplane on a flight from the Republic of Georgia. She is rated 2325 by FIDE and is ranked number 12 in the world on the FIDE top-20 girls list: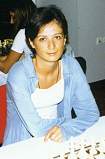 Rusudan Goletiani
---
http://www.worldfide.com/fide/html/top20girls.html
I asked her why she had not played in the New York Open. It turns out that she knew nothing about the New York Open. She had arrived from Tbilisi, Georgia yesterday on a flight via Istanbul and her friend had looked for chess clubs in the yellow pages of the telephone directory, so it was by pure coincidence that she had arrived at the Marshall Chess Club on the night of the NYC Blitz Championship.
Rusudan Goletiani said that she has qualified for the next Woman's World Chess Championship which, she believes, will be held in China.
This NYC Blitz Championship was much weaker than in the previous two years, because, although it was originally scheduled to take place at exactly the conclusion of the New York Open Chess Championship, the New York Open was moved forward three days at the insistence of the Hotel New Yorker, so by the time the NYC Blitz Championship was held, most of the 38 grandmasters who had participated in the New York Open had gone back to their countries.
By contrast, the 1998 NYC Blitz Championship had 13 grandmasters and the 1997 NYC Blitz Championship had 14 grandmasters. The event was not held in 1999 because the New York Open was canceled that year.
I want to say something about my own play: Even though I finished with the miserable score of 5-9, I was actually happy with my play. I never play five minute chess because I am too slow and stupid to play that fast. I usually need six or seven minutes to complete a reasonable game.
Nevertheless, because these events only come once a year, I played in this and in a similar event held at the Manhattan Chess Club three days earlier. The Manhattan Chess Club event was about the same strength, but I played much worse.
There, I started well, drawing with FM Asko Hentunen (FIDE 2332) who had traveled from Finland for the tournament, in my first game, playing 1.g4 on my first move. However, after the game, I realized that I had offered him a draw in a rook vs. pawn endgame which I could easily have won. I was so uncomfortable playing five minute chess that I had offered him a draw in a winning position.
After that, I lost almost all of the rest of my games. I even lost a game to an 1800 player when I left my king en pris in a winning position and a game to a 1900 player (a girl from Medillin Colombia) when I also left my king en pris in a winning position. I played only one master in that tournament, other than my first round opponent.
By contrast, at the Marshall Chess Club tournament held three days later, all but one of my opponents were rated over 2300 and I still beat two of them, and I defeated the only opponent I played rated below 2300 by 2-0. I scored wins over Whee K. Ma (rated 2390) and Erez Klein (rated 2307) and I defeated Chayim Goodman (2090) by 2-0.
After five rounds, my score was 5-5, a very satisfactory result in such a strong field. However, they kept pairing me against strong opponents. I never got an easy pairing. I lost my last four games to Danilo Nenezic (2309) and Roman Dubinsky (2354).
By contrast, the other contestants for the under-2200 prize played much weaker fields. After four rounds, Igor Sapezhansky trailed me with 4 1/2, a half point less. He was then paired against an opponent rated 1859 and he won both games, while I was playing against my 2309 rated opponent, who defeated me 2-0.
In the last and final round, class pairings were used for players in competition for a class prize. The way this works is that all players who have a chance to win the prize for under 2200 play each other and all players who have a chance to win the prize for under 2000 play each other. The purpose of this is to prevent a situation here the player in the lead plays a much stronger opponent who is out of his class and therefore a player who is behind him but has a much weaker opponent passes him in the last round.
Going into the last round, Vladimir Yershov (2079) was leading with 7 followed by Igor Sapezhansky (2091) with 6 1/2. After that came Carlos DeMarco (2188) with 6, Sam Barsky (2193) with 5 1/2 and Sam Sloan and Chayim Goodman with 5.
In the last round, Yershov was paired with Sapezhansky and Carlos DeMarco was paired against Barsky. However, since I was out of the running for first class prize, I was paired against a much stronger opponent, Roman Dubinsky (2354).
The reason I was out of the running for any prize is that in the match between Yershov with 7 and Sapezhansky with 6 1/2, one of them was bound to get at least 8, so I with 5 points could not catch them even if I won both of my games.
As it turned out, Sapezhansky won both games against Yershov and thereby won the under-2200 prize of $150. Sam Barsky won both games against DeMarco to finish with 7 1/2 but got nothing because there was no second under-2200 prize.
I lost both of my games but, even though I only scored 5-9 and Igor Sapezhansky scored 8 1/2 - 5 1/2, my over-all result was better than his because I faced much stronger opposition. My average opponent was rated 2274 and my performance rating for the tournament was 2141, which makes me feel much better about my play, even though it will probably be another year before I play in another blitz tournament.
Sam Sloan
---
Here are links:

Sam Sloan's Chess Page


Contact address - please send e-mail to the following address: Sloan@ishipress.com