FBI Steps Up Manhunt for 5 Pakistani Dishwashers
The FBI has announced an intensive restaurant-to-restaurant search for five Pakistani dishwashers believed possibly to have slipped across the border from Canada into the United States on December 24, 2002.

The FBI identified the men as Abid Noraiz Ali, 25; Iftikhar Khozmai Ali, 21; Mustafa Khan Owasi, 33; Adil Pervez, 19; Akbar Jamal, 28. An FBI statement urging the public to be on the lookout for them said the names and ages may be fictitious.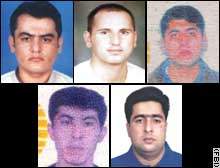 The Five Fugitive Pakistani Dishwashers
http://www.cnn.com/2002/US/12/30/fbi.wanted.men/index.html
The sources said the five men received British passports and their intent was to enter the United States to wash dishes. State Department spokesman Philip Reeker said the government had no record that any had applied for a U.S. visa.
The Department of Homeland Security is coordinating an effort to combine the resources of the US Customs Bureau, the Immigration and Naturalization Service, the State Department, the FBI and the CIA to bring about the speedy apprehension of the five dishwashers.
Photographs of the five dishwashers have been placed at the top of the FBI website, replacing the photograph of a man wanted for the murder of his pregnant wife and three children.
A press release has been issued by the FBI warning that the five dishwashers may be bearing fictitious documents.
http://www.fbi.gov/pressrel/pressrel02/122902press.htm
It is being emphasized that if these five dishwashers from Gujurat, Pakistan are allowed to ply their nefarious trade, this will cause America and Mexican dishwashers to lose their jobs, which in turn will cause an economic downturn in the US, leading to the collapse of the world economy and plunging the entire world into a worldwide depression and economic chaos.
Meanwhile, one of the dishwashers as he struggled to wash a dish said that it is very difficult to keep all the dishes clean while sleeping on the floor under the sink of the restaurant, even as FBI Swat teams are combing the neighborhood looking for him.
Sam Sloan
http://www.samsloan.com/dishwash.htm
The five fugitive dishwashers are as follows:
ABID NORAIZ ALI, DOB AUGUST 15, 1977
IFTIKHAR KHOZMAI ALI, DOB SEPTEMBER 20, 1981
MUSTAFA KHAN OWASI, DOB NOVEMBER 12, 1969
ADIL PERVEZ, DOB DECEMBER 12, 1983
AKBAR JAMAL, DOB NOVEMBER 1, 1974
---
Here are links:

My Home Page

Contact address - please send e-mail to the following address: Sloan@ishipress.com