DNA Evidence Proves that Thomas Jefferson fathered at least one child by Sally Hemings
Confirming the results of research published by Sam Sloan years ago, DNA evidence has just proven that Thomas Jefferson was the father of at least one of the five children of Sally Hemings.

The results of this new research are being published in the next issue of the scientific journal "Nature".

The DNA evidence proves that Thomas Jefferson was the father of Sally's youngest child, Eston.

However, the same evidence proves that Thomas Jefferson was not the father of Thomas Woodson, said by some to be the oldest child of Sally Hemings.

John Jefferson, a descendant of Eston Hemings, holds a picture of his famous ancestor, Thomas Jefferson
---

This latter result is not surprising. Thomas Jefferson's Farm Book does not list Tom Woodson or any child named Tom as the son of Sally Hemings. Thomas Jefferson credited Sally with five children: Harriet (who died in infancy), Beverley, Harriet (a second child given the same name as the child who died), Madison and Eston. It was only James Callender who said in 1803 that Thomas Jefferson had a child named Tom. Also, descendants of Thomas Woodson, who grew up on a nearby farm, have long theorized that their ancestor was the Tom mentioned by Callender and that he was banished to another farm after the scandal broke in 1803.

If there was a child by Sally named Tom (which is doubtful) there is no real evidence that he was the same person as Tom Woodson.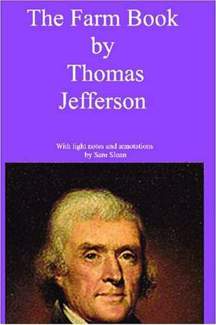 A page from Thomas Jefferson's Farm Book, which was hand written by Thomas Jefferson himself. Sally is listed as having three children. Harriet 1, Madison 5 and Eston 8. Harriet Hemings was born in 1801. Madison Hemings was born in 1805. Eston Hemings was born in 1808. Sally's eldest son was Beverley, was born in 1798 and because of his age had a separate listing in the Farm Book. An earlier child also named Harriet had died in infancy. Note that according to Thomas Jefferson's Farm Book, Sally never had a son by the name of Tom.


Tom Woodson has more than one thousand descendants who are alive today and they have been the most vocal in asserting that Thomas Jefferson is their ancestor.

The new research will tend to prove that Beverley, Madison and both Harriets were the children of Thomas Jefferson.

All this is explained in the 1992 book, "The Slave Children of Thomas Jefferson" which has just been republished and reprinted by Kiseido.

The new research is being said to be helpful to Clinton concerning the Monica Lewinsky scandal, by proving that Thomas Jefferson, who is thought of as the greatest of American presidents, did it too. Eston Hemings was conceived and born in 1808, while Thomas Jefferson was president.
---
Here are links:

Contact address - please send e-mail to the following address: Sloan@ishipress.com