Taking New Measurements for Jefferson's Pedestal
By NICHOLAS WADE

CHARLOTTESVILLE, Va. -- In a room just across the road from Monticello, the hilltop mansion of Thomas Jefferson, a group of scholars struggled this weekend to understand the character of the third president now that it has taken on a dimension that historians almost unanimously denied for two centuries.


Thomas Jefferson
---

Most people at the meeting agreed that DNA data reported last November, along with the available historical evidence, now makes it between probable and almost certain that Jefferson had a hidden family with Sally Hemings, one of his slaves. The DNA data showed that at least one Hemings descendant bore the same Y chromosome as that of the Jefferson family.

What, then, should historians think about Jefferson? Should he be banished from the pantheon? Condemned as a hypocrite who preached liberty but practiced slavery, who urged equality but exercised a master's sexual rights over a slave? Or can the case be made that he acted honorably within the standards of the time and that his private life should have no bearing on his public standing?

Anger both at Jefferson's tolerance of slavery and at the historians who have long denied that he had an interracial relationship was expressed by Annette Gordon-Reed, a professor at New York Law School. "Women harvested his crops while he sat writing letters and thinking great thoughts," she said in a paper written for the conference.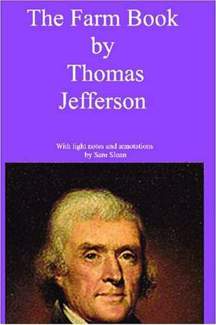 A page from Thomas Jefferson's Farm Book, which was hand written by Thomas Jefferson himself. Sally is listed as having three children. Harriet 1, Madison 5 and Eston 8. Harriet Hemings was born in 1801. Madison Hemings was born in 1805. Eston Hemings was born in 1808. Sally's eldest son was Beverley, was born in 1798 and because of his age had a separate listing in the Farm Book. An earlier child also named Harriet had died in infancy. Note that according to Thomas Jefferson's Farm Book, Sally never had a son by the name of Tom.


"When he died penniless, the majority of them were scattered to the four winds, losing family, home and friends. All these activities -- all of these things done to black women -- have been taken in and washed clean of their import for those who style themselves as the keepers of Jefferson's flame."

Jefferson's chief defender at the conference was Jack Rakove of Stanford University. Acceptance of the liaison with Hemings, Rakove suggested, added little to the existing problem of reconciling Jefferson's commitment to equality with his life as a slave owner.

"As much as the relationship complicates the problem of understanding Jefferson's private life, including the psychology of slave holding, it does not fundamentally alter or even enlarge the essential public dilemma," Rakove said.

Jefferson, he noted, "was born into a world which was only beginning to understand that slavery was an evil of a kind radically different from the other wrongs of life." And it was Jefferson's commitment to equality and religious liberty, he noted, that kindled the forces by which, many years later, slavery was abolished.

Rather than resolving the debate about Jefferson, the new ingredient has made the brew more complex. Dr. Gordon-Reed compared it to the Dreyfus affair, a medley on which everyone can project their own political passions. Saying that the public has shown more interest in the Hemings story than President Clinton's advisory commission on race, she added, "There is, apparently, nothing like a story involving race, sex and interracial family lines to capture the American imagination."

This weekend's conference of about a dozen historians was organized by Peter Onuf, the Thomas Jefferson Memorial Foundation professor of history at the University of Virginia.

Before now, historians' record on the Jefferson-Hemings relationship has not been distinguished for its accuracy. Although Jefferson was first accused of having a family with Hemings during his first term as president, in a newspaper article of 1802, historians have long dismissed the possibility as an invention of Jefferson's political enemies and as being incompatible with his character.

Winthrop Jordan, of the University of Mississippi, seems to have been one of the few historians who clearly stated that the liaison was a possibility, and in 1968 he documented that Jefferson had been present at Monticello, despite his many absences, at the conception of all of Hemings' then-known children.

Even so, the most recent biographer of Jefferson, Joseph J. Ellis of Mount Holyoke College, wrote in his 1996 book, "American Sphinx," that within the community of Jefferson specialists, "there seems to be a clear consensus that the story is almost certainly not true."

It took two outsiders to the profession to correct the record. Dr. Gordon-Reed, marshaling the available historical evidence through a lawyer's eyes, laid out a compelling case for the plausibility of the liaison in her book, "Thomas Jefferson and Sally Hemings," published in 1997.

Eugene Foster, a Tufts University professor of pathology who lives in Charlottesville, then collected the DNA data from descendants of the Jefferson and Hemings families, which he reported in November.

Historians, Ellis first among them, quickly accepted the new evidence and in the papers commissioned by Onuf have already developed many new insights into the remarkable institution of Jefferson's public and shadow families.

Watched by a quizzical bust of Jefferson that dominated the room, several of the historians suggested that despite the unequal nature of the relationship, a true bond may have existed between them during the 35 years of their relationship.

"She loved him, probably, and he her -- as it has been for most marriage partners through the ages -- in a framework of profound inequalities as to power and freedom," said Dr. Rhys Isaac of Latrobe University in Australia.

Hemings probably first became Jefferson's mistress when she was sent as a girl to Paris, where he was ambassador in 1787.

Though she could have claimed her freedom in France, she returned to Monticello on the condition that all of her children be freed, according to the memoirs of her son, Madison Hemings. Because of that leverage, their relationship would perhaps have been less coercive than otherwise, said Joshua Rothman of the University of Virginia.

But Dr. Philip Morgan, of the Institute of Early American History and Culture, said that in Jefferson's hierarchical world, their relationship may have differed little from that of master and slave. "I am impressed by how little we know about the Jefferson-Hemings relationship. In all of Jefferson's correspondence, he mentions her only once," Morgan said.

Other historians pointed out several reasons to suppose that Hemings was more than just another slave in Jefferson's eyes. Her mother was the slave mistress of Jefferson's father-in-law, John Wayles, making her the half-sister of Jefferson's beloved wife Martha. She was said to be fair-skinned, though no portrait of her survives. Several historians suggested that Jefferson might have seen her as part of his own world.

But Dr. Dianne Swann-Wright, of the International Center for Jefferson Studies, objected to any attempt to portray Hemings as other than black. She and Dr. Lucia Stanton of the Thomas Jefferson Memorial Foundation have conducted a survey among Hemings' descendants, charting their uneasy pilgrimage between the black and white worlds.

All of Hemings' children were freed after Jefferson's death, as he had promised. As they were fair-skinned, some passed in white society. More recently, members of the family have been marrying blacks, the two historians said.

Jefferson's troubled legacy was implicit in the remarkably complicated structure of his household at Monticello. The white family and the black family lived together, yet the black family was never publicly acknowledged. Jefferson's sons with Hemings were taught carpentry and the violin, but he seemed never to have treated them as his children either in public or in private.

"He was not in the habit of showing partiality or fatherly affection to his children," Madison Hemings said in his memoir.

The last word on Jefferson may belong to Henry Adams, a historian. "Excepting his rival Alexander Hamilton," Adams wrote, "no American has been the object of estimates so widely differing and so difficult to reconcile. ... A few broad strokes of the brush would paint the portraits of all the early presidents, ... but Jefferson could be painted only touch by touch, with a fine pencil, and the perfection of the likeness depended upon the shifting and uncertain flicker of its semitransparent shadows."

Here are links:
To order The Slave Children of Thomas Jefferson, see: Order Book
Contact address - please send e-mail to the following address:
Sloan@ishipress.com