A Village Girl in Dok Am Tai, Thailand
Dok Am Tai is a village in Northern Thailand which is famous for producing more prostitutes and bar girls than any other village in Thailand.

Even sociological studies and reports have been done about this place.

In 1987, I spent a week there. I made friends with a young woman named Tai who is shown in the picture.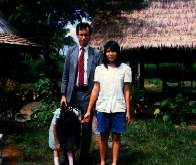 Tai, a Girl in Dok Am Tai, Thailand


Tai had a very active and devoted father. She did not seem in any way likely to wind up as a prostitute in Bangkok. She was about 17 when this photo was taken.

Still, I have often wondered: What ever happened to Tai? Did she eventually go the same way that so many of her village girls had gone?

Sam Sloan
---
Here are links:
---
Here are links:


My Home Page

Contact address - please send e-mail to the following address: Sloan@ishipress.com