Two Women Fight Court Battle to Decide Who is the Real Beauty Contest Winner
Never since the Texas Cheerleader's mom decided to have her daughter's cheerleading rival killed so that her own daughter could win a place on the cheerleading squad have two women fought so viciously over a right and title which militant feminists claim should never be awarded at all.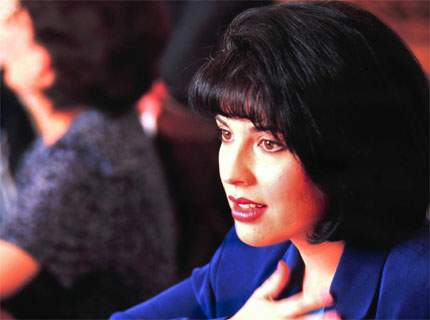 Regina Flores won 1997 Miss Colorado only to be stripped
---

Regina Flores, who needless to say is Hispanic, i.e. from Mexico, won the title of 1997 Miss Colorado fair and square, the first Hispanic woman ever to do so. However, several months later she was stripped of her title, essentially for failing to show up to work and for going into business for herself. The title was awarded to a white American woman who had finished second.

A little known fact is that beauty contest winners do not merely get the glory they receive when they stand on stage and show off. They get a job as well, to be Miss What-Ever-It is for the next one year. These beauty contests are big business. This is not fun and games. The winner must attend promotions and publicity events to raise funds for the next year's contest.

When Regina Flores failed to show for several scheduled promotional events, she was "fired" as Miss Colorado and the title was awarded instead to the second place finisher, Gina Marie Waegele.

Regina Flores protested saying that she was still Miss Colorado and that she had failed to appear at two promotional events only because there was a snowstorm. Flores filed suit. The case went to arbitration and Flores won.

However, neither Miss Waegele nor the Miss Colorado Scholarship Program board and its director, Yvonne Pederson, will accept the arbitrator's decision. They refuse to return the Miss Colorado crown. They claim that Miss Waegele is still Miss Colorado.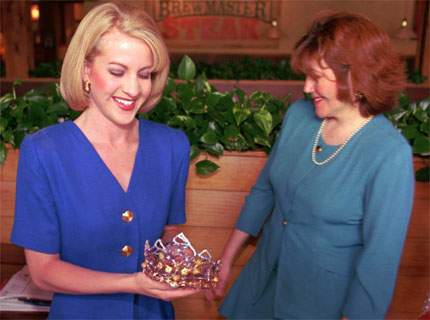 Gina Marie Waegele holds the crown she won when she was awarded the title of 1997 Miss Colorado after Regina Flores was stripped
---

Meanwhile, the 1998 Miss Colorado contest will take place next month. Both women plan to attend to fight for the right to place the crown on the head of next year's Miss Colorado.

"I am going to show up on June 13," Ms. Flores said, "and there may be two of us up there trying to put the crown on the new Miss Colorado."
---
Although this is the first time within anybody's knowledge that a beauty pageant winner has been stripped of a title for failure to fulfill commercial contractual agreements, there have been several instances in which a beauty contest winner lost a title for immoral conduct. Here are a few examples:

The most famous case occurred in 1984, when Vanessa Williams became the first black Miss America, only to have her title stripped a few days later when it was discovered that she had posed in hard core lesbian porn. Photos of her were later published in Penthouse magazine.

However, stripping her of her title did not work, as this incident made Vanessa Williams by far the most famous winner of Miss America and propelled her into a TV and movie career. The person who was awarded the title in her place has been forgotten.

There was an earlier incident involving Miss Universe winner Amparo Muñoz from Spain. This scandal was hushed up, and it was only said that she "had been unable to complete her term of office."

Spain's Amparo Muñoz won in 1974. She did not finish her reign, but became a soft porn star and made one movie in the Philippines where she was involved in a slapping incident and scandal involving money. Amparo Munoz is still a film star in Spain and starred in two 1996 movies: Lycantropus - The Full Moon Murders, and Familia even though she is 43 years old! (She was born on 22 June 1954 in Málaga, Spain).

Miss Wales, Helen Morgan, won the Miss World title in 1974 and she also finished second to Amparo Munoz in the Miss Universe contest, but was de-crowned because it was found that she had been an unmarried mother plus she was also married.

Miss USA, Leona Gage, reached the semi-finals to the 1957 Miss Universe Contest only to be disqualified when it was discovered that she was both married and the mother of two children.

The most recent famous case involved 1998 Miss Puerto Rico, Joyce Giraud, who posed almost completely naked in underwear ads prior to becoming Miss Puerto Rico. Rival beauty contestants tried to have her stripped of her title so that they could represent Puerto Rico in the just concluded Miss Universe contest in Hawaii. However, they were unsuccessful. Miss Puerto Rico was allowed to compete, and finished third.

Sam Sloan
---
UPDATE - In the aftermath of this controversy, The directors of Miss Colorado have all resigned.

Here are links:




Contact address - please send e-mail to the following address: Sloan@ishipress.com