Hajigul, a Uyghur girl, and her friend in Kashgar, Xinjiang Autonomous Region, China
Hajigul is on the right. Hajigul was a member of the girl's basketball team at the University of Kashgar.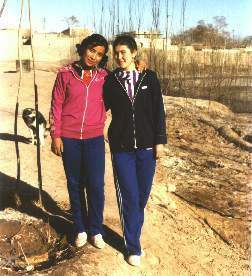 Hajigul, right, and her friend
---

I made a great effort to marry Hajigul, but she rejected my proposals. I wanted her to replace Honzagool, who had deserted our daughter, Shamema. Hajigul had a nice and attractive personality. One popular belief is that the people of Chitral have come from Kashgar. Chitral is sometimes known as Kashgar Kuchek or "Little Kashgar". Many people in Kashgar physically resemble people in Chitral. For this reason, I figured that if I could get Hajigul to marry me, I could then pass her off as Honzagool and nobody would know the difference.

Uyghur is a Turkic language. I found a Uyghur man named Ablimet Baqi to translate and to propose marriage to Hajigul in my behalf. She refused marriage, although she did seem mildly interested. I never told Hajigul the exact reason why I so especially wanted her and not any other girl, which was that she had both a similar name and a physical resemblance to my wife, Honzagool, and I wanted her to help take care of my daughter, Shamema.

One factor which did not help was that when I had first gotten to Kashgar, I had tried for a girl named Edipim, who had come and sat down next to me in a classroom at the University of Kashgar. It turned out that Edipim was the daughter of the Mayor of Kashgar.

I eventually gave up and left Kashgar after spending one month there in February, 1985.

Ablimet later that year founded a foreign language school in Kashgar and is now a famous person there. I never heard anything more about Hajigul or Edipim.
---
UPDATE:

March 8, 1998: I just made a telephone call to Ablimet in Kashgar, China. Ablimet told me that Hajigul is now married and has two children. Hajigul is now a physical education teacher in High School No. 3 in Kashgar.

Edipim is also married, but he is not sure how many children she has.
---
Here are links:

Contact address - please send e-mail to the following address: Sloan@ishipress.com