Tomb of the famous princess
Tomb in the Tomb of Apak Hoja, Kashgar, Xinjiang Autonomous Region, China

On the tomb is written in Uyghur "Iparhan". Iparhan is considered by many Uyghurs as a Uyghur woman hero. There are controversies around this historic figure. The Chinese historians call her Xing Fei (Fragrant Lady) and consider her as Manchu Emperor Qienlung's concubine, which is insulting to the Muslim Uyghurs.

According to Muslim law, a Muslim woman cannot marry a non-Muslim man. For this reason, the Uyghurs would consider it blasphemous for a Uyghur woman to be the consort of the Chinese emperor.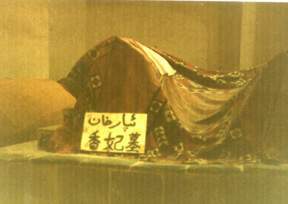 Tomb of the famous princess in the tomb of Apak Hoja near Kashgar, China
---

For more about the tomb where this photo was taken, see: Tomb of Apak Hoja. For its history, see: History of the Tomb of Apak Hoja .
---
Here are links:

My Home Page

Contact address - please send e-mail to the following address: Sloan@ishipress.com