Garry Kasparov talks turkey with Zsuzsa Polgár
Woman's Chess Grandmaster is Ildikó Mádl, is to the left of Zsuzsa. Ildiko Madl played fourth board for the Hungarian Woman's Chess Team and delivered the decisive point which won the world championship by defeating her Soviet opponent, after Sofia Polgár got benched for losing to an unknown and unrated Chinese girl named Peng ZhaoQin. I do not know who the man at the far left is. If anybody knows, please e-mail me.

I took this photo during the 1988 World Chess Olympiad in Thessaloniki, Greece. Zsuzsa's father, Laszlo Polgar, had sent Zsuzsa to negotiate some kind of business deal with Kasparov. Zsuzsa speaks Russian fluently and thus was a suitable person to negotiate with Kasparov. Zsuzsa is now the Woman's World Chess Champion.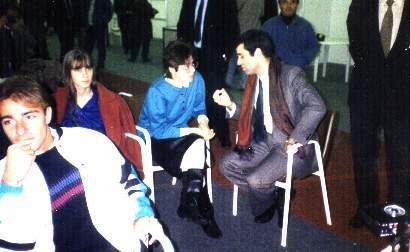 Garry Kasparov talks turkey with Zsuzsa Polgár
---
Here are links:

Sam Sloan's Chess Page


Contact address - please send e-mail to the following address: Sloan@ishipress.com