Kerry's War Record is Fake
Now that John Kerry is a virtual lock to win the Democratic Presidential Nomination, everyone starting with Hollywood film studios wanting to make a movie about his supposedly heroic acts during the war are trying to learn the details of his war record, and are finding that they cannot find any.

The truth is about to come out, or is out already: Kerry's war claims are fake or at least are greatly exaggerated. Kerry served in Viet Nam for only four months. He collected a bronze star, a silver star and three purple hearts. However, he got these awards by repeatedly applying for them. He used his three purple hearts as the basis to be sent home early, eight months before he had completed his tour of duty, and then he got out of military service early so that he could run for Congress.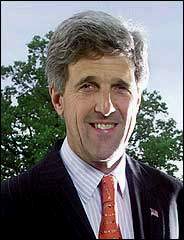 Senator John Kerry


Ever since, John Kerry has based his political career on his supposed war record. Kerry rarely utters a single paragraph without mentioning his service in VietNam.

Men who have fought in wars and have seen serious combat rarely talk about it. Five of my uncles were military officers in World War II. Three of them saw heavy combat. My Uncle Newell fought in the Battle of the Bulge where almost all of the other men in his unit died in that battle. My Uncle Edward fought in the invasion of Iwo Jima. My Uncle Alden was a B-29 Pilot who flew 30 bombing missions over Japan and flew on the mission but in a different bomber during which the A-Bomb was dropped on Nagasaki.

When they came home, did they brag about their service to their country? No! They rarely if ever spoke of it. They never talked about the battles in which they had fought or about the men whom they had seen die.

Senator John Kerry talks endlessly about his war record, about how he was wounded three times in combat, and about how he knows this or that better than the rest of us because of his war experiences.

How was a man able to get wounded three times in battle and survive? Why have not the details of his great acts of heroism in which he sustained these war wounds ever been published? Why have most actual VietNam veterans turned their backs on John Kerry?

The truth is that John Kerry saw very limited military service, did not deserve the awards he got, applied for these awards repeatedly so that he could be sent home early, and has exaggerated his accomplishments ever since in order to get elected to public offices.

Sam Sloan
---
Express your opinion of this article about John Kerry in the guestbook
---
I have filed three petitions for a Writ of Certiorari in the US Supreme Court. All of the petitions I have filed seek to be reinstated on the ballot as a candidate for US Congress for the Tenth Congressional District of New York.

Here are the petitions I have filed in the United States Supreme Court, in HTML Format:
---
Here are links:

My Home Page

Contact address - please send e-mail to the following address: Sloan@ishipress.com