Kola Kwariani a/k/a "Nick the Wrestler", Chess Expert and Former World Champion Wrestler
In the 1950s and 1960s, Nick the Wrestler played chess daily and nightly at the Chess and Checker Club in New York City, also known as "The Flea House". Nick was known regularly to play chess there for five or six days straight without sleep.

Few knew his real name, which was Kola Kwariani .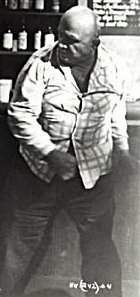 Kola Kwariani plays Maurice Oboukhoff in the Bar Jump Scene in the 1956 Stanley Kubrick film "The Killing"
---

In the 1956 Stanley Kubrick film "The Killing", Nick played a hired killer named Maurice Oboukhoff. In the movie, he started a fight in a bar as a diversionary tactic.

The movie shows Sterling Hayden going to the Chess and Checker Club of New York to hire Nick for this purpose.

Nick is said to have been the World Champion at Greco-Roman style wrestling. He had cauliflower ears, caused by being squeezed in the head too much. His face was covered with warts and bumps. In the 1960s, he became the manager of Antonino Rocca. Rocca died in 1977.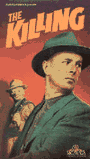 Nick died in 1980. He met his end in a sad way.
The Flea House went out of business in the late 1970s. It was said that Cal Morris, who had bought out John Fursa, spent his time playing bridge and neglected the business. The premises was taken over by a company which spent $100,000 renovating. They installed pool tables and video games. A lot of tough Puerto Rican kids frequented the place. There were even prostitutes doing business there. There were reports of shootings and killings.
Chess players, oblivious to the dramatic changes taking place in a location which had been a chess club for 30 years, continued to come. Therefore, the management set up some nice chess boards in the front, which presumably had the dual purpose of being a front for any illegal activities. The chess players continued to play chess.
Nick came in the downstairs entrance one evening when about five black youths were leaving. They bumped into each other. Words were exchanged. Nick never took any gruff from anybody and soon he was engaged in a fight with all five black kids at once.
Nick probably could still have handled any one or two of them, but five were too many. Nick was beaten. The ambulance was called. Nick was taken to the hospital, and died shortly thereafter at age 77.
The Flea House is now the Disney Store, on West 42nd Street, next to the Amsterdam Theater.
The Social Security Death Index gives the following: Name NICHOLAS KWARIANI, born 16 Jan 1903, died Feb 1980, Residence 10305 (Staten Island, Richmond, NY), Last benefit 10312 (Staten Island, Richmond, NY), Social Security Number 102-28-1595, Issuing State, New York, issued Between 1952 and 1954.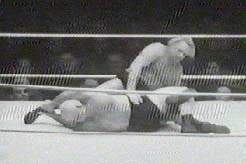 "Mr. America" Gene Stanlee ties up Kola Kwariani in this scene in the video "Wrestling's Greatest Heroes: The Golden Era"
---
---
Here are links:

Sam Sloan's Chess Page


Contact address - please send e-mail to the following address: Sloan@ishipress.com