Judge Intends Prison Time to Block Abortion
By REUTERS
CLEVELAND -- A Japanese woman convicted of forgery has been shuttled from one cell to another as her lawyers tried to persuade a court to let her have an abortion.

The woman, Yuriko Kawaguchi, 21, a former student at the University of California at Berkeley, was sentenced to six months in prison on Tuesday, after pleading guilty to a forgery charge involving credit cards. She has been held in jail for four months.

Gary Daniels of the American Civil Liberties Union said the crime was a fifth-degree felony under Ohio law and usually carried a sentence of probation.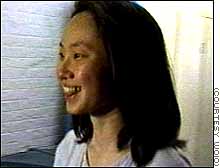 Yuriko Kawaguchi
---

Judge Patricia Cleary of Common Pleas Court said she was using the sentence to block Ms. Kawaguchi from having an abortion.

According to a partial transcript of Tuesday's proceeding, Ms. Kawaguchi told the court that she was pregnant and if released, "I will be trying to have a procedure done."

Asked by the judge what she would do if she were not released, Ms. Kawaguchi said she would put the child up for adoption.

After sentencing, Judge Cleary sent Ms. Kawaguchi back to the Cuyahoga County jail. If the defendant stays in the county and puts the child up for adoption, the judge said, "I'll consider that as well."

Asked by Ms. Kawaguchi's lawyer, Anthony Vegh, to explain what she was suggesting, Judge Cleary said, "I'm saying that she is not having a second-term abortion."

Ms. Kawaguchi was transferred to the Ohio Reformatory for Women in Marysville on Friday, just hours before her lawyers were to appear in United States District Court to try to prevent her from being transferred to the state prison. The lawyers were seeking to have Judge Cleary removed from the case.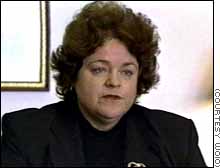 Judge Patricia Cleary
---
Daniels said Ms. Kawaguchi's public defenders were filing an emergency motion for bail and a suspension of the sentence in state court, pending an appeal.
---
UPDATE

Appeals court allows bail for woman seeking abortion

October 13, 1998 Web posted at: 9:31 p.m. EDT (0131 GMT)

CLEVELAND, Ohio (CNN) -- A forger who says she was sent to prison to prevent her from getting an abortion was freed on bail Tuesday on orders from a state appeals court.

Ironically, she said she is now undecided about terminating her pregnancy.

"I want to be able sit down and think about if I do carry this baby to term, what steps I do need to take," Yuriko Kawaguchi said at a news conference shortly after she was released from Cuyahoga County Jail.

"Or if I do decide to have an abortion what kind of medical factors might be dangerous for me," she said.

Kawaguchi, a 21-year-old citizen of Japan who was raised in the United States, pleaded guilty in a credit card scam and had asked for probation so she could have an abortion.

Instead, Common Pleas Judge Patricia Cleary gave her six months in prison last week, a sentence Kawaguchi said was too harsh and designed to prevent her from terminating her pregnancy while she can legally do so.
---
UPDATE: Because she was not released from prison until she was more than 20 weeks pregnant, Yuriko Kawaguchi decided that she had no choice but to have the baby. The baby, a girl, was born. Yuriko Kawaguchi now lives with her daughter in Berkeley, California. In 21 years, we will ask the kid whether she thinks her mother made the right decisions. Meanwhile, Yuriko Kawaguchi has filed a suit against the judge - Judge Shrugs Off Forced Birth Lawsuit - Complaint seeks to make judge pay cost of child she 'saved' from abortion.

Here are links:

Contact address - please send e-mail to the following address: Sloan@ishipress.com