WOMAN'S WORLD CHAMPIONSHIP COMPETITION TAINTED BY FAVORITISM BY FIDE

The official report on the Woman's World Chess Championship Candidates Tournament by Willy Iclicki contains the following intriguing statement:

"Nino Gureli from Georgia was called in at the last minute to replace Mrs. Basagic from Bosnia who was unable to accept her invitation for personal reasons."

Why, I ask, was Nino Gureli, of all people, called in as a substitute?

The answer is obvious to anyone who has been following woman's chess: They called in Nino Gureli, who has been around since the Coons Age, because they knew she was a relatively weak player whom the other women could beat.

There were several young girls, much stronger that Gureli, who were prevented by circumstances from competing in the Woman's World Championship cycle, who could and should have been called in when a vacancy developed. These included:

7 Zhu, Chen g CHN 2515
10 Matveeva, Svetlana g RUS 2470
11 Stefanova, Antoaneta (IM) g BUL 2450
17 Peptan, Corina g ROM 2460

As can be seen, all four of these girl grandmasters are rated higher than most of the competitors in the just concluded Woman's World Championship Candidates tournament. Moreover, all of them are rated far higher than Gureli, who, at 2370, is only ranked number 32 in the world.

Why, you ask, was not Chen Zhu, Svetlana Matveeva, Antoaneta Stefanova and Corina Peptan already competing in the world championship cycle?

The answer is that they are too young!! Due to the illegal act by that notorious criminal, Kirsan Iljumzhinov, of unilaterally canceling the normal world championship cycles back in early 1996, the men players who had been working their way through the cycle lost their rights, whereas the women players had their competitions postponed for nearly two years. The young kids like Antoaneta Stefanova, who has just turned 18, only emerged as top competitors within the past two years. Therefore, the women who got to compete in the just concluded Women's Candidates Tournament were just the elderly women who had qualified a long time ago.

This sort of thing has been going on especially in women's chess for a long time. We must congratulate Alisa Galliamova RUS 2445 for not only winning the tournament but for achieving the first GM norm ever in an all-women's tournament!

However, we must remember that back in 1988, the other Soviet women passed a resolution to prohibit Alisa Galliamova, who was only 16 at the time, from competing in the Woman's Interzonal Tournament that year. Even the President of the Soviet Chess Federation, Sevastianov, stated that the Chairman of the Woman's Committee, Nana Alexandria, wanted Galliamova excluded because she was too strong for the other women.

I reported this incident. My report is on my web site at http://www.samsloan.com/assembly.htm

Now that Zsuzsa Polgar is the Woman's World Chess Champion, everyone seems to have forgotten the long years when the Polgar sisters were banned and blacklisted from playing chess.

Even though we congratulate Galliamova on her victory, we must remember that there were four girls, all rated higher and presumably stronger than her, who were not allowed to compete in this tournament.

The official FIDE Report on the results of the Women's competition follows:

Sam Sloan
---
Women world championship final standings
12/30/97 by Willy Iclicki
Women's' Candidates Tournament.
Ten of the world's best women players (apart from the Polgar sisters) qualified from the Interzonal at Kishinev for the right to compete at Groningen.
The top two will play a further match to decide who will challenge the World Champion Zsuzsa Polgar in 1998.
Nino Gureli from Georgia was called in at the last minute to replace Mrs. Basagic from Bosnia who was unable to accept her invitation for personal reasons.
It is probably the longest women's tournament ever with the players contesting a double round all-play-all with 18 games.
Just before round 10 the German player Ketino Kachiani Gersinska resigned for medical reasons.
Finally the Russian Galliamova won quite easily the tournament. The second was the former World Champion Xie Jun. Both players will play next year a match to nominate the challenger to the current World champion Zs. Polgar.
Final standings
1 Galliamova, A RUS 2445 13.5
2 Xie Jun CHN 2495 12.5
3 Chiburdanidze, Maia GEO 2525 11
4 Ioseliani, N GEO 2520 11
5 Peng Zhaoqin NED 2400 9
8 Maric, Alisa YUG 2460 9
6 Cramling, P SWE 2520 8.5
6 Arakhamia GEO 2430 8
9 Gurieli, Nino GEO 2370 5
10 Kachiani-Gersinska, K GER 2415 1.5 (withdraw)
The players
Maia Chiburdanidze GEO 2525
Pia Cramling SWE 2520
Nana Ioseliani GEO 2520
Jun Xie CHN 2495
Alisa Maric YUG 2460
Alisa Galliamova RUS 2445
Ketevan Arakkhamia Grant GEO 2430
Ketino Kachiani Gersinska GER 2415
Zhaoqin Peng CHN 2400
Nino Gureli GEO 2370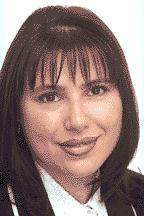 Here is a link: The New Polgar Book
---
Here are links:

Sam Sloan's Chess Page


Contact address - please send e-mail to the following address: Sloan@ishipress.com