My Wild Icelandic Girls
I was present during the 1972 Fischer - Spassky chess match in Reykjavik, Iceland. Afterwards, I got involved with some Icelandic girls. Their names were Gulla, Gurra, Gunna, Guffa, Tutta, Inga, Karo, Loa, Hrefna, Helga, Sibba, Solla and Beggo.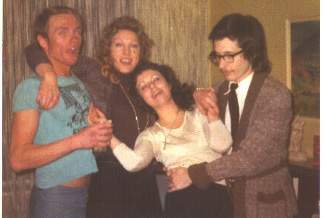 Einar, Hrefna, Solla and Sam in Reykjavik. Sam is holding up Solveig. So great was the beauty of Solveig that she made the first page of the Icelandic telephone directory
---

The first two Icelandic girls I ever met were named Laufey Gu­mundsdˇttir and Hr÷nn Isleifsdˇttir. I met them at the Klubburinn ("The Club") in Reykjavik, on the night of the day that Bobby Fischer won his dramatic 13th game against Boris Spassky. Laufey and Hr÷nn introduced me to the mysteries of Icelandic girls. They started me on my infatuation with them. After that, I went to Iceland 12 times!

The next night I met a prominent doctor named Skuli Ůoroddsen at the Hotel Saga. He said that he wanted me to marry his daughter, because I was so intelligent that we would make very bright babies. He introduced me to his daughter, but nothing materialized, because Skuli Thoroddsen committed suicide by killing himself two weeks later. (Iceland has the highest suicide rate in the world.)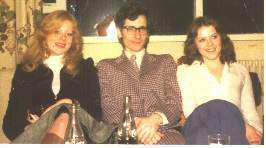 Loa, Sam and Karo in Reykjavik, Iceland
---
The next Icelandic girl I met was named Gu­laug Sveinsdˇttir, also known as Gulla for short. Gulla introduced me to Hafdis Einarsdˇttir. The rest is history.

Icelandic names are often based upon the Norse god Ůor, which we pronounce "Thor". Icelandic girls pride themselves on being wild and unpredictable, like the volcanoes they live on top of.

Here is How to Tell an Icelandic Girl . Here are photos of some of my wild Icelandic girls: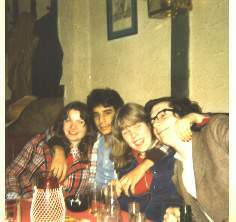 Gurra, Felix, Beggo and Sam. The full name of Beggo is Bergliot Palmidottir. The photo was taken in O'Reilly's Pub on 31st and Broadway in New York City in 1973.
---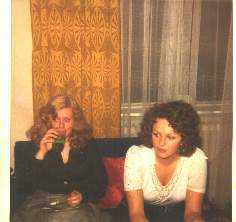 Loa and Inga Brandsdottir in Reykjavik, Iceland
---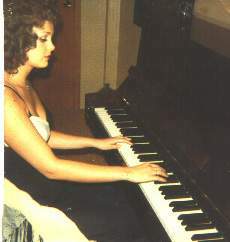 Inga Brandsdottir attempting to play the piano in Reykjavik, Iceland
---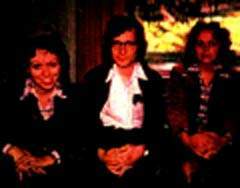 Solvieg, Sam and Inga at the Sloan family residence, Lynchburg, Virginia, 1974
---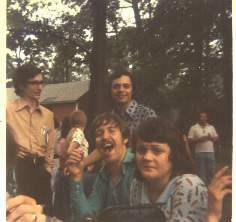 An Icelandic Party on Long Island in the Summer of 1973. Jerry Bannon is standing at the center. Sam Sloan is standing left. Gunna and an unidentified man are seated
---

Yet another Icelandic girl I got to know was named Thorunn Elisabet Benediktsdˇttir, also known as Dudda or Tutta. I do not have a photo of Tutta

Then of course there was Palina Kristjansdˇttir of Akranes and Johanna Baldursdˇttir of A-Gotu 6, Thorlakshofn. There was also Helga Thorvardarsdˇttir.

I did not leave behind any babies in Iceland. I did not develop that proclivity until years later.

I am out of contact with all of these girls. If anybody runs into any of them (and I am sure you will) please let me know.

Several people have asked me why I have included the photo of Gerard Bannon in this collection. There are two important reasons:

1. Jerry Bannon was a maintenance worker for Icelandic Airlines on the ground crew staff at Kennedy Airport. In May, 1974, one year after this photo was taken, Jerry fell under the tow bar of an Icelandic Airlines DC-8 at JFK Airport and was run over and killed. At the time of this tragic accident, Jerry was involved in a dispute with me concerning an Icelandic girl. I have always felt deeply sorry about this.

2. The girl in the photo, Gunna, went to an Icelandic party right after this one that night at Jerry's apartment in Kew Gardens, Queens. Gunna got drunk and became pregnant at that party. Nine months later, Gunna gave birth to a child. I was at that party. I think I know who the father is. He is Icelandic.

The Lord giveth and the Lord taketh away.

Sam Sloan

For more about this, see: The Story of Hafdis Einarsdottir

Contact address - please send e-mail to the following address: Sloan@ishipress.com

The first photo below is of Solveig, me and Inga at my home in Lynchburg, Virginia in 1976. A few days before this, I had made $46,000 in just one trade in one day in the stock market (my all-time biggest hit) and so I had Inga and Solveig flown in from Iceland to visit me. Sorry the photo is so bad, however.
---
---
UPDATE: I have just found out that Hafdis is now a bigshot with Icelandair. She is the Station Manager of the Orlando Office.
---
Here are links:

My Home Page

Contact address - please send e-mail to the following address: Sloan@ishipress.com