CLARIFICATION ABOUT M. ISMAIL SLOAN
Subject: CLARIFICATION ABOUT M. ISMAIL SLOAN.

Hello, I do thank you for your e-mail. Information required about Mr. Muhammad Ismail Sloan are as under:-

1. Ismail Sloan is the first foreign research scholar who connected Khowar language to Internet. All the Khowar Speakers have no words to appreciate his valuable efforts and valuable work for Khowar language. As you know that Dr.Elena Bashir (PH.D. in linguistic from University of Michigan) is also researching on Khowar language and a book titled "Proceedings of the Second International Hindukush Cultural Conference" edited by her and Professor Israruddin, published by Oxford University Press is available in the market. Mr. Karl Jetmar, Col O'Brien, Garrison, and many other foreign scholars are working for the promotion of Khowar. Mr. Sloan is one of them, and he is the first foreigner who research on Khowar and publish Khowar Dictionary. He married with Ms. Shib Delan in Moroi Chitral in September 1978; Mr. Sloan obtained a visa for his brother in law, sister in law to accompany his wife to America. But the family of Saheb Delan refused to go or to allow her to go with Mr. Sloan to America because they wanted a "permanent visa" to America. The visa expired unused. Because Mr. Sloan was forced by the brother in law as well the villagers to divorce his wife.

2. Ms. Hoonzagool is still his wife in Damik Chitral but the relationship between Mr. Sloan and his brother in laws are not so good due to some misunderstanding between them.

3. A game played by the press and relatives of Honzagool's relatives to blackmail Mr. Sloan, as you know the real story is that the brother in law of Mr. Sloan was using Honzagool to extort money out of him. He threatened Mr. Sloan and said that if he did not give him money, he would take her away from him. This is the main reason. The other stories you heard about Mr. Sloan are baseless, illegal, unfair and incorrect. Mr. Sloan is a law-abiding citizen.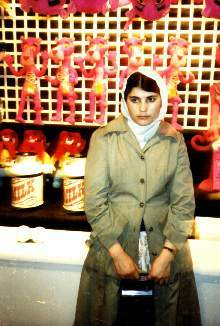 Honzagool


4. Your other question that Mr. Sloan divorced his wife is wrong, he never divorced his wife, and they are still wife and husband. Mr. Sloan still wants his wife from his brother in laws, the complaints about honzagool and shamema honzagool is on his web site. One complaint sent to the President of Pakistan Mr.Pervaiz Musharaff in this regard.

5. I think you agree with me about Mr. Sloan the reasons to blackmail him by the relatives of his wife's family I mentioned hereinabove is true and correct to best my knowledge and belief. But why you are doubtful about Mr. Sloan?

6. And finally the answer you asked about me that who am I? For your kind information I belong to Tehsil Torkhow District Chitral, I am author of 3 books two in khowar and one in urdu. I am free launce journalist and researcher. Presently I am working on my Khowar/Urdu/Roman/English Dictionary. You asked about me and now I request you to kindly let me know what are you doing nowadays in Karachi. Any other information about Chitral, Kalash, Chitrali authors, Khowar language and literature please don't hesitate to write me.

7. For more information about the personal life of Mr. Sloan please contact Mr. Sloan directly. Insha Allah he will reply your all questions.

8. At last my objections about your name Saif Rahman, you have wrongly mentioned your name, and your name may be Saif-ur-Rahman. Am I right?

I thank you.

Yours truly,

Chitral Pakistan.

Date: Wed, 29 Aug 2001 23:24:17 -0700 (PDT) From: Saif Rahman

Subject: hello

To: rachitrali@yahoo.com

hello rehmat bhai

asalamu alikum

i hope u r well and enjoy the grabs season of chitral

i think u r also surprise that how is said rehmat bhai i am also chitrali i live in karachi. i get your email address from sam salon email yaar awa tasar conform korik mashkiman ki haya mosh ka assor khur chitralo bara ziyada intrested ko assoor. matay haya pata sher ki haya chiraltu shadi kori astay acha talaq diti assoor. magar wa de hess chitralo bara pura web site sawzay assoor tu hamu bara tafseel matay koray.waisa ma horosoon email contect behcuran magar sahi information nodoyan.rehmat bahi if u dont mind i want to know about u. i am saif ur rahman belong to chitral karimabad valey in villege droneel

i wait your email

my email address saif_saboor@hotmail.com

your good wisher

saif

khuda hafiz

Here are links:

My Home Page

Contact address - please send e-mail to the following address: Sloan@ishipress.com