Mayor Giuliani escalates his personal war on New York City street vendors, as law enforcement officers gun down street vendor in a hail of bullets.
After publicly declaring war on New York City street vendors last year, Mayor Giuliani sent a clear and forceful message on February 4, as four of New York's finest gunned down a vendor from Africa who had been guilty of selling gloves and hats on the streets of Manhattan.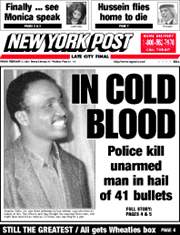 Amadou Diallo on the New York Post for February 5, 1999
---

The four plain-cloths undercover officers encountered Amadou Diallo, a 22-year-old Muslim street merchant from Guinea, as he was entering the apartment house where he lived at 1157 Wheeler Avenue in the Soundview section of the Bronx. They fired 41 rounds, but only 19 of the bullets hit Diallo.

"I can understand the anger," Mayor Giuliani said, "But there's a tendency of some people in our society to blame the police in broad strokes that is just as vicious a prejudice as any other prejudice."

Spokesmen explained that the killing was justified. "They took what they felt to be, and feel to be, appropriate police action," said Stephen Worth. "I think it will likely develop that Mr. Diallo had a language barrier which prevented him from understanding and complying with the officers' orders."

Most of the police shell casings were found on the stairs and sidewalk in front of the building. One casing, though, was found in the vestibule, not far from Diallo's body, investigators said. Officials said that did not necessarily mean that any shots had been fired at close range. The Medical Examiner's office declined comment on whether Diallo's body showed powder burns, which could indicate a shooting at close range.

"I am not going to subscribe to a notion that the police officers in New York City as some general matter are acting improperly", Mayor Giuliani added.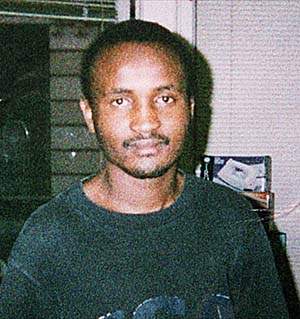 Amadou Diallo


Amadou Diallo had no criminal record and no previous encounters with the police. He was unarmed and was carrying only a beeper and a wallet with some money inside.

Police Commissioner Howard Safir noted, however, that the incident pointed out the need for better training of the police. Although the officers fired 41 times, 22 of their bullets missed their target. As a result, on February 13, Commissioner Safir ordered police officers to start using hollow-point bullets, because they kill quicker and more cleanly. In addition, the four officers who shot and killed Diallo have been assigned to desk duty, although they have not been questioned about their acts.

This incident should prove to be a major victory in Mayor Giuliani's "Quality of Life" program and will help achieve the Mayor's goal of bringing an end to the pesky problem of sidewalk street vendors, along with other miscreants including taxi drivers and street artists.

Sam Sloan
---
Here are links:

Contact address - please send e-mail to the following address: Sloan@ishipress.com