Urdu article attacking the judge on the grounds of bias in favor of Ismail Sloan
This article was published in the Daily Jasarat in Karachi in October, 1983. It vehemently attacks the judge in the Honzagool case. It states that Honzagool was not fairly treated by this judge.

In fact, however, that judge never saw Honzagool. She was never produced before him. He never held a hearing in the Honzagool case.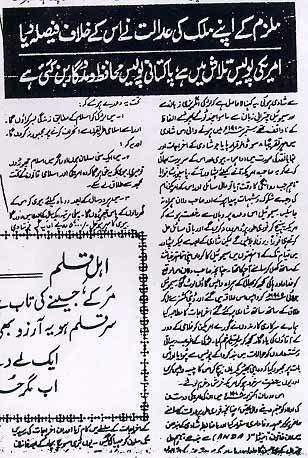 In September, 1983, Raja Ehsan Aziz presented a petition to that judge asking that my wife be divorced from me, without notifying me, so that he could marry her himself. The judge refused to take his papers and told him to come back in a month. Raja Ehsan Aziz then went to Rawalpindi and wrote this and numerous other newspaper articles attacking that judge, even though the judge had done nothing at all.
In March, 1984, that judge, Mian Hafiz-ur-Rahman, the Extra-Assistant of Chitral, was found murdered in Village Singur, Chitral, near the power station. His head had been cut open with a hatchet and his dead body had been thrown in the river. The murder remains officially unsolved.
It is completely obvious who committed this murder, especially since the dead body of the judge was found less than 200 yards from their house. The name of one of the men involved is Sultan Murad. Yet the police refused to investigate the obvious culprits and the case remains officially unsolved. Why don't the police connect this inflammatory newspaper article with the death of the judge?
If anyone can provide an exact translation of this article it would be appreciated.
For a more complete article, see: http://www.anusha.com/jasarat.htm
---
Here are links:


Contact address - please send e-mail to the following address: Sloan@ishipress.com