Letter from Maine Securities Division
STATE OF MAINE
DEPARTMENT OF PROFESSIONAL
AND FINANCIAL REGULATION
BUREAU OF BANKING

SECURITIES DIVISION
121 STATE HOUSE STATION
AUGUSTA, MAINE
04333-0121

ANGUS S. KING, JR.
GOVERNOR

CHRISTINE A. BRUENN
SECURITIES ADMINISTRATOR

September 6, 2000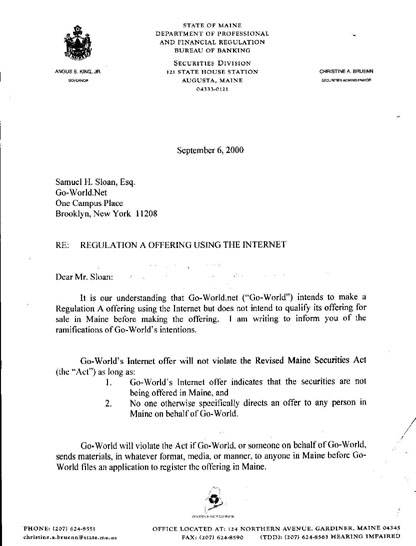 Letter from Maine Securities Division


Samuel H. Sloan, Esq.
Go-World.Net
One Campus Place
Brooklyn, New York 11208

REGULATION A OFFERING USING THE INTFRNET

Dear Mr. Sloan:

It is our understanding that Go-World.net ("Go-World") intends to make a Regulation A offering using the Internet but does not intend to qualify its offering for sale in Maine before making the offering. I am writing to inform you of the ramifications of Go-World's intentions.

Go-World's Internet offer will not violate the Revised Maine Securities Act (the "Act") as long as:

1. Go-World's Internet offer indicates that the securities are not being offered in Maine. and
2. No one otherwise specifically directs an offer to any person in Maine in behalf of Go-World.

Go-World will violate tire Act if Go-World, or someone on behalf of Go-World. sends materials, in whatever formal, media. or manner, to anyone in Maine before Go-World files all application to register the offering in Maine.

Go-World will violate the Act Go-World receives or accepts any money or other consideration, signed subscription agreement, or other signed document indicating a Maine investor's commitment to purchase Go-World's securities before the Maine Securities Division declares Go-World's offering effectively registered in Maine.

Go-World's decision to make an Internet offering without first qualifying the offering in Maine will cause a delay in the offering being made effective in Maine if Go-World decides to register the offering later. This decision may also cause complications coordinating the offering Circular with the United States Securities and Exchange Commission (the "SEC") and other states. After Go-World files its application in Maine, we will have 30 days to complete an initial review of the application and issue comments on the filing. If Go-World makes changes to its Offering Circular in response to our comments, Go-World may need to submit those changes to the SEC and any other states where the offering is already registered. If these changes are substantial, Go-World may be required to make rescission offers to people who have already purchased securities in the offering.



Letter from Maine Securities Division, page 2


For your information, a Regulation A offering is registered under . §10405, Registration by Qualification, of the Act. A registration application includes:
* a completed and manually signed Uniform Form U-1;
* a completed and manually signed Uniform Form U-2;
* a copy of the Offering Circular;
* a copy of any other materials filed with the United States Securities and Exchange Commission (the "SEC"); and
* a $500 filing fee for each class or type of security being offered.

Anyone who makes offers and sales of Go-World's securities in Maine must be licensed under the Act. Go-World may offer its securities through a licensed broker- dealer or through its officers, directors, and employees who are licensed as sales representatives in Maine. If Go-World is not using a licensed broker-dealer to make offers and sales in Maine, Go-World must submit a sales representative licensing application for each officer, director, or employee who is involved in the offering or will have contact with Maine persons. A sales representative licensing application includes:
* a completed and manually signed Uniform Form U-4; and
* a $40 filing fee. If you have any questions, please contact me.


Sincerely yours,


Bonnie F. Russell
Securities Registration Supervisor

PRINTED ON RECYCLED PAPER

PHONE: (207) 624-8551
christine.a.bruenn@state.me.us

OFFICE LOCATED AT: 124 NORTHERN AVENUE, GARDINER, MAINE 04345
FAX: (207) 624-8590
(TDD): (207) 624-8563 HEARING IMPAIRED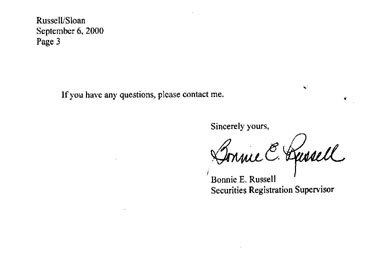 Letter from Maine Securities Division, page 3
---
Here are links:

My Home Page

Contact address - please send e-mail to the following address: Sloan@ishipress.com