Miss Virginia Crowned Miss America
ATLANTIC CITY, N.J. (AP) -- Miss Virginia Nicole Johnson, a 24-year-old diabetic who wears an insulin pump on her hip, was crowned Miss America 1999 on Saturday.

Johnson, a graduate of the University of South Florida who recently completed work on a master's degree in journalism, sang "That's Life" for her talent offering.

She plans to spotlight diabetes awareness during the 20,000-mile-a-month national speaking tour she will make as Miss America. She gasped when her name was announced and looked up at the ceiling before she accepted a crystal scepter and was crowned by outgoing Miss America Kate Shindle.

"My goodness, this doesn't seem real. I can't believe it," a breathless Johnson said at a news conference held immediately after her victory.

Miss Virginia being crowned Miss America
---
Miss North Carolina Kelli Bradshaw was first runner-up and Miss Florida Lissette Gonzalez was second runner-up. Rounding out the top five were Miss Missouri Deborah McDonald and Miss Kentucky Chera-Lyn Cook.
Johnson, of Roanoke, Va., works as a writer and producer for 700 Club promotions and wants to be a national news anchor and national diabetes spokeswoman.
Johnson contracted diabetes when she was 19 as the result of a virus. She said the illness has helped make her a stronger person.
"I'm a normal girl. I'm not perfect. And Miss America should not be perfect. I have something wrong with me," she said. "You can't see it. But everybody has something in their life ... everybody has a stumbling block, everybody has to figure out how to get around that stumbling block."
One potential pageant controversy was eliminated early in the evening: Miss Ohio Cheya Watkins, who was the focus of a pageant investigation into reports that she lied about her academic record, did not make the top 10. She claimed to be a freshman at University of Cincinnati, but officials there said they have no record of her. She would have been stripped of any title or money if pageant organizers found reason to disqualify her, said Leonard Horn, chief executive of the Miss America Organization.
In another controversy, three judges with close ties to Oklahoma were replaced earlier this month amid complaints that Miss Oklahoma Julie Payne would get preferential treatment. She won a talent preliminary anyway and advanced to the semifinal round.
No contestant has ever been kicked out of the pageant in Atlantic City. But a winner was dethroned once: Miss America 1984 Vanessa Williams was forced to resign after nude pictures of her appeared in Penthouse magazine during her reign.
New wrinkles in this year's telecast included hosts Boomer Esiason and Meredith Vieira, "up close and personal" videos of the contestants and a parade in which each woman is allowed to wear any kind of clothing she chose.
Miss America wins a $40,000 college scholarship, a year's worth of travel and speaking engagements, and about $200,000 in appearance fees.
Miss America 1998, Miss Shindle of Illinois, championed AIDS prevention, advocating government-funded needle exchanges and school condom distribution.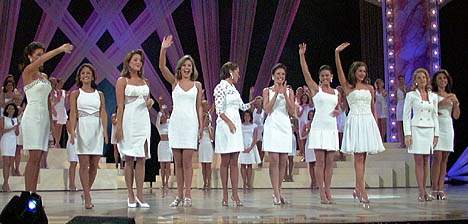 The Top Ten Semi-Finalists
---

9/19/98 -- 2:34 AM

Miss America 1999 - there they are, scandal and all

ATLANTIC CITY, N.J. (AP) - There's a former White House intern, a diabetic who wears an insulin pump on stage and a law student named Frankenstein who sings a song from Broadway's "Jekyll & Hyde."

Wait, there's more than just an unusually colorful group of contestants in tonight's 78th annual Miss America Pageant. There's even a scandal.

Miss Ohio Cheya Watkins reportedly lied about being a college student on her pageant application, but will be allowed to compete. Pageant chief executive Leonard Horn says if an investigation finds that she lied, she will be stripped of whatever she wins in the pageant - including the title of Miss America 1999.

It will be the last big show for Horn, the man credited by some and blamed by others for stripping the famous pageant of its bathing-beauty image.

Horn, who brought in two-piece swimsuits, instituted viewer call-ins and tried mightily to transform Miss America from big-haired icon to relevant activist, is stepping down early next year.

He will be replaced by Robert Beck, a former Mothers Against Drunk Driving official most recently affiliated with the U.S. Soccer Federation Foundation in Washington, D.C.

But back to the contestants.

Miss South Dakota Sara Marie Frankenstein wanted everyone to know that yes, that really is her name. "You heard correctly. I assure you, after you get to know me, I'm no monster," she said.

And that's no pager Miss Virginia Nicole Johnson is carrying. The tiny device she wears all the time is her source of insulin.

And the former White House intern? That's Miss District of Columbia Nicole Messina, who didn't even point it out on her resume. She was worried about "pre-conceived notions" associated with former interns. And, no, she never met President Clinton.

Horn's out-with-the-old approach will still be obvious to viewers. For the first time, contestants this year can wear whatever they choose for the opening parade of states.

And "up close and personal" videos, shot in the contestants' hometowns over the summer, will be aired in hopes of giving viewers more insight into the personalities.

Pageant producers also promise a surprise ending. Yes, the new Miss America will walk the runway after her crowning, but she will also assume her first public role on stage. They aren't telling what the surprise is.

Last year, the surprise came two days after the pageant, when it was revealed that the father of Miss America 1998, Kate Shindle, had served on the pageant's board of directors until six months before the show.

Shindle, who won praise and criticism alike for her work in AIDS prevention as Miss America, was dogged by questions of favoritism all year. "There she is, my kid," read one newspaper's headline.

Scrutiny stemming from the controversy led to a miniature brouhaha this year. Three judges with ties to Oklahoma were replaced before competition started amid complaints that they would favor Miss Oklahoma Julie Payne.

Payne apparently didn't need them. She won one of three talent preliminaries with a tap dance.

Meredith Vieira of "The View" and quarterback-turned-commentator Boomer Esiason of "Monday Night Football" are the hosts of the pageant, which is in its second year on ABC-TV.
---
Here are links:

Contact address - please send e-mail to the following address: Sloan@ishipress.com