Why are beauty contest winners not very beautiful?
Some day (not necessarily today) perhaps you can address the question of why many of us feel we can go out on the street and quickly find a girl who is more beautiful than Miss America.

Sam Sloan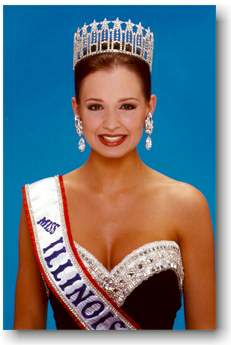 Miss Illinois USA Christina Lam WAS as flat as my back. As soon as she won Miss Illinois USA, she was encouraged to spruce em' up a bit ala Bay Watch Babe Style.
---
---
Hi Sam:

What type of pictures would you like? As far as why you can look on the street and find a prettier or more beautiful woman than Miss America. Very simple, I truly believe that and strive to PROJECT the plainer type female so they do not receive the letters and controversy fitting the "Trump" look alikes.

Those two systems like to be kept separate .. very separate!! It is a well known fact that Miss America contestants are the less prettier in face, but more intelligent group. Miss Universe is "boobs, big hair and less smarts win". Although, Miss Universe is trying to say they are NOT that by simulating the Press Conference segment of their show. Of course, this is my opinion. However, it is a known fact that it is in fact an issue. Figure this out. Miss America preliminaries are free to enter. Miss Illinois USA charges $1000 and anyone is accepted! Miss Illinois America renders approximately 25 contestants at State where Miss Illinois USA has more than 70 contestants??? These kids will pay $1000+ to get almost nothing in prizes and you never really hear from them again unless they win Miss Universe.

Point in simple. Miss Illinois USA Christina Lam was in a preliminary in the America system. She is now as buxom as her skin would permit. Take a look at the Miss Illinois USA page. That girl WAS as flat as my back. As soon as she won Miss Illinois USA she was encouraged (?) to spruce em' up a bit ala Bay Watch Babe Style.

Need more than that? Ask away....

Anonymous (But you really know who I am)
---
Oh Sam,

I forgot to tell you. You may piss some people off by calling Miss Illinois a Beauty Pageant. They like to be called Miss Illinois-America Scholarship Program. And make sure you change your title to say Miss Illinois-America. The Miss Illinois USA people will come after you.

That's a BIG fopah around this state

Thanks again,

PS Why do YOU do stories on pageants by the way??
---
I don't mind them coming after me. There is nothing I would like better than to be hunted down by an angry gang of beauty contestants.

I got into this with Miss Universe last year. I had just obtained a new domain name the day before, and just as a way to gain publicity for my new web site I posted a page on every one of the 80 contestants.

This proved to be so popular that contestants started e-mailing me their own photos and I posted them as well.

As far as the controversies, I am interested in this as a social issue. You will see that I have pages on abortion, adoption, missing children and a variety of other related women's issues.

I do not know of any where else you could send this too. In fact, I note that publications such as The New York Times never mention beauty contests, not even Miss America, presumably because of feminists protests.

Sam Sloan
---
Here are links:


Contact address - please send e-mail to the following address: Sloan@ishipress.com