Miss America 1997 Tara Dawn Holland, the Virgin Fiancee of Congressman Jon Christensen
It is not every day that one gets to see a certified, verified and exemplified virgin 24-year-old woman. So, here she is: MISS VIRGIN - 1998.
This is only her most recent title. She was also MISS AMERICA 1997.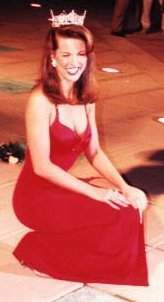 How do we know that she is a certified virgin? Why, because a United States Congressman has told us so, and Congessmen never lie.
Jon Christensen is presently campaigning for election as the Governor of Nebraska on the ground that he is about to get married to a virgin bride, Tara Dawn Holland, who has been saving herself for him, he says.
The voters of Nebraska are so overwhelmed with the deep Christian sincerity of this man that he is considered to be the favorite to win the election!
Here is some of the blurb put out about Tara Dawn Holland when she was elected Miss America:
---
Tara Dawn Holland Overland Park, Kansas
Age: 23
"The eradication of illiteracy unlocks the door to America's future, and we hold the key."
Date of Birth: 10/2/72
Parents: James and Dianne Holland
Education: University of Missouri-Kansas City - 2nd year graduate
student; Florida State University - 1994 graduate - Bachelors in Music
Education; Lake Mary High School - 1990
Platform Issue: Illiteracy: Awareness, Early Intervention, and Remediation
WHO IS THE NEW MISS AMERICA? Name: Tara Dawn Holland - Age: 23 - Home: Overland Park, Kan. - College: University of Missouri-Kansas City, second-year graduate student. - Career ambition: To teach middle school chorus and to spearhead a national campaign for the eradication of illiteracy. - Winnings: $40,000 scholarship and an estimated $300,000 in appearance fees.


Jon Christensen - Running for Governor of Nebraska
---

She is a second-year graduate student at the University of Missouri-Kansas City, majoring in music. During the talent competition, Holland dressed in a midriff-baring oriental costume to sing the operatic composition "Ou va la jeune Indoue." Holland said she'd studied piano for 10 years but decided to take up singing because she wanted a more prominent role in productions.

She has been competing in pageants for six years, beginning her quest for the Miss America crown at age 17. During her yearlong reign as Miss America, Holland intends to champion the cause of illiteracy awareness. The new Miss America said she became interested in the issue because she has an illiterate relative and witnessed the shame the person experienced at not being able to read.
---
Here is: Tara Dawn Holland runs for Miss America.

Here is more about Jon Christensen, whom some misunderstanding wag has labeled: Moron of the Month.

As long as we are on the subject of virgins, here are some more:



---

UPDATE: In spite of being way ahead in the polls two weeks ago (when this was first posted) Nebraska Republican Jon Christensen has been overwhelmingly defeated in the gubernatorial primary, and received only 28% of the vote. See Nebraska's GOP Blasts Christensen.

See also: Johanns sweeps to GOP win BY DON WALTON Lincoln Journal Star.

I like to think that my web posting contributed in some small way to his defeat because, in my view, any man who is not even willing to eat his own wife's pussy should not be in any position of governmental authority.

Sam Sloan

Order the Video of Clinton's Testimony

Contact address - please send e-mail to the following address: Sloan@ishipress.com