My son Peter is a chess master and a talented artist
My son, Peter Aravena Sloan, is a rated master chess player and is also an exceptionally talented artist. He won an art scholarship to the prestigious Cooper Union. Now he is about to graduate from the State University of New York Purchase Visual Arts Conservatory.

My son has just put up a website consisting of artwork he has created pertaining to chess. I realize that you will think that I am saying this just because he is my son, but I hope you will go there, because then you will see what an exceptionally talented artist he really is.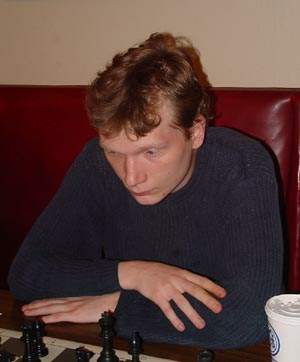 My son, Peter Aravena Sloan


The address is: http://www.chessartist.com.

Today, October 22, is his birthday. My son is 24 years old today!

My son is rated 2237 by the USCF. See: http://www.64.com/uscf/ratings/12615391

My son is rated 2247 by FIDE, the World Chess Federation. See: http://www.fideonline.com/card02.phtml?event=2018950

*Peter Julius Aravena Sloan* is a 24 year old practicing artist and designer. He currently is a student in his fourth year, at the SUNY Purchase Visual Arts Conservatory. He was a Graphic Design major for two years and has now moved on to printmaking for his final year of study. Peter had studied previously in the Cooper Union High School for three years, studying with famous artists such as Sandy Jimenez, Bret Cooke Dizney, Carol Sun. In addition, he participated in the Art Students League of New York for two and a half years.

Sam Sloan

Examples of Peter Sloan's Graphics Art, Original Designs:

My Home Page

Contact address - please send e-mail to the following address: Sloan@ishipress.com