Chess Grandmaster Rusudan Goletiani has been approved for a green card
This happened in February but I wanted to wait to make sure that this was correct, before thanking the many persons who helped make this possible.

Now, we want to thank publicly everybody who helped in this matter. This is not a trivial matter, because in immigration affairs people often file the wrong petition or in the wrong way and get permanently messed up because of this.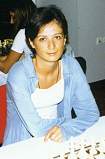 Rusudan Goletiani
---

The approval letter was dated February 15, 2001. Since February 15, there have been a more developments. The INS finally cashed her check for $220 two weeks ago and sent her forms for her to make an appointment to give finger prints. These are routine matters and in a matter of months Rusudan will receive her green card.

She is receiving a Green Card as a person who Extraordinary, Outstanding, or Exceptional as defined by Immigration Law in the field of chess. She is clearly well qualified for this. She is not only an International Woman's Grandmaster of chess with a FIDE rating of 2324, but she has won the world chess championship three times in various age categories. She has won the world chess championship for girls under-14, for girls under-16 and for girls under-18. She probably would have won the World Chess Championship for girls under-10 which was played in 1990 in Fond du Lac, Wisconsin, but her Soviet trainers had her play in the world championship for girls under-12 instead, even though she was only nine years old. She finished fourth in the world under-12 but would have been easily the strongest in the world under-10.

Rusudan Goletiani qualified to play in the Woman's World Championship which was held in New Delhi, India in December, but she could not travel to India because her green card application was pending and had she left the USA at that time she would have been deemed to have abandoned her green card application and would probably not have been allowed to return to the USA. As a result, she was forced to forfeit her match against Nana Ioseliani, the former world title challenger.

When Rusudan Goletiani arrived in New York City on a direct flight from her Republic of Georgia on Friday May 12, 2000, she was unknown in America, in spite of having won the World Chess Championship for Girls Under 14, the World Chess Championship for Girls Under 16, and the World Chess Championship for Girls Under 18 in successive years.

Born on 8 September 1980, in Sukhumi, Abkhazia, Georgia and rated 2324, she is now the number 12 player in the world on the official FIDE top-20 girls list. As a US player, she will be the number two rated USA woman, behind only Irina Krush. She is rated 2339 on the USCF list, which makes her number five woman in the US but this can be expected to change after she has had more opportunity to play in US tournaments. (One of the four women ahead of her on the USCF list is not actually a US player).

She has traveled extensively and has won three world chess championships. In 1994, she won the World Championship for Girls Under-14 in Hungary. In 1995, she won the World Championship for Girls Under-16 in Brazil. In 1997, she won the World Championship for Girls Under-18 in Yerevan, Armenia.

Perhaps even more impressively, she won the Soviet Junior Championship for Girls Under-12 in 1990 when she was only nine years old!

In 1990, Rusudan Goletiani was the Soviet Representative in the World Youth Chess tournament for Peace in Fond du Lac, Wisconsin. This event is the subject of a movie entitled "Chess Kids".

Rusudan wants to send thanks to all the people who wrote letters to the INS which helped her to get a green card. The success of her green card application depended on receiving recommendations from established and well-known authorities in her field, which is chess. Here is the list of persons who wrote letters in her behalf:

Yasser Seirawan, who wrote two letters on behalf of corporations he heads.
Don Schultz, former USCF President
Robert Ferguson, Director, American Chess School
Dean Ippolito, on behalf of Club Kasparov
Sunil Weeramantry, Scholastic Chess Coach
Larry King, Ratings and Technical Manager, USCF
George DeFeis, Executive Director, USCF
David Gurgenidze on behalf of the Georgian Chess Federation

Almost everybody we asked agreed to write a letter in her behalf, with the exception of Tim Redman, USCF President, who declined.

In addition, a number of people offered help, advice and suggestions. I must say, however, that in some instances this well-intended advice turned out to be wrong. I say this because I do not want anybody to be lured into the belief that obtaining a green card in this way is an easy thing to do. If you want to do it this way, I advise you to win the World Chess Championship first!

Perhaps the best part of it is that it cost Rusudan Goletiani zero to get her green card. We went to many lawyers and others who wanted to charge her between $5,000 and $7,000 for her green card application. We also learned of other chess grandmasters who had applied for a green card, only to have their applications denied and to have their return to the USA blocked. In the end, we filed her application ourselves without paying anything to a lawyer.

Rusudan Goletiani will now be eligible to play in the USA Woman's Championship and she hopes to play later this year.

Here is what the letter she received from the INS says. Unfortunately, I left out a few of the words because there was not enough ink in the INS ribbon, so it was difficult to read.

Sam Sloan

Department of Justice Immigration and Naturalization Service Notice of Action

The United States of America

EAC-00-220-503772 Case Type I140 Immigrant Petition for Alien Worker
Receipt Date September 8, 2000
Priority Date August 23, 2000
Petitioner Goletiani, Rusudan
Notice Date February 15, 2001
Beneficiary Goletiani, Rusudan
Notice Type Approval Notice
Section: Alien of Extraordinary ability Section 203 (b)(1)(A)

The above petition has been approved. We have sent it to the Department of State National Visa Center (NVC) 32 Rochester Avenue, Portsmouth, NH 03801-2909. NVC processes all approved immigrant visa petitions that need consular action.

This completes all INS action on this petition. If you have any questions about the visa issuance, please contact NVC directly. The telephone number to NVC is (603) 334-0700. Wait 50 days before contacting the National Visa Center for your visa petition.

The NVC will contact the person for whom you are petitioning concerning further visa processing steps.

THIS FORM IS NOT A VISA

Please see additional information on the back. You will be notified separately about any other cases you filed.

IMMIGRATION & NATURALIZATION SERVICE
VERMONT SERVICE CENTER
75 LOWER WELDEN STREET ,BR> SAINT ALBANS VT 05479-0001

Customer Service Telephone: (802) 527-4913
---
UPDATE: Rusudan Goletiani makes the US Chess Federation news
---
Here are links:

Sam Sloan's Chess Page


Contact address - please send e-mail to the following address: Sloan@ishipress.com